It is a quiet evening in Place des Vosges, Paris, when, all at once from every direction, crowds of men and women, hundreds of them, descend upon the square. The people, dressed elegantly in all white—the men in clean, crisp trousers and jackets and the women in summer dresses or light pantsuits—quickly set small tables and chairs in perfect straight lines and lay out elaborate picnics, along with excellent bottles of French wine, of course.
They take their seats and wave white napkins in the air, and begin to enjoy their lavish picnics, conversation and merriment. As day fades to dusk, the group lights sparklers and dances to live music. Then, when the clock strikes midnight, they pack up their things and leave the park as if they had never come.
This magical event marks the opening scene of Diner en Blanc: The World's Largest Dinner Party, a recent documentary film by director and producer Jennifer Ash Rudick, an Upper East Side author and journalist. Ms. Rudick's film showcases an event that is simultaneously perfectly public—it is out of doors, after all—and very exclusive—"Diner en Blanc," the elegant, impromptu picnic that has graced Paris' most beautiful outdoor spaces annually for nearly 25 years, and has now expanded into 22 cities around the world, including New York.
The film, which offers the first behind-the-scenes look into the making of the unusual yet surprisingly simple celebration, premiered at the Palm Beach International Film Festival in Florida last month to a warm reception, and has been entered in the the Hamptons International Film Festival, which will take place this fall. Diner en Blanc, perhaps Paris' best-kept and most refined secret, is a sort of flash mob for the sophisticated set.
What began in 1988 as a simple outdoor gathering among about 200 friends and friends of friends, who dined al fresco while wearing white, has grown into a worldwide phenomenon. Last year more than 36,000 people attended, including 19,000 in Paris and 3,000 in New York. Despite its growth, the ethic of the dinner has remained constant year after year: The event is not commercial or political in any way—it is merely an elegant gathering of friends and neighbors who commune for the sole purpose of enjoying one another's company. The celebration is something of an enigma—prior to on-camera interviews for Ms. Rudick's film, the event's creator, Frenchman François Pasquier, had never spoken to the press. Mr. Pasquier and a small group of friends secretly organize the dinner in Paris each year, and those who are invited to attend are not informed of the Diner's exact location until just before it begins.
"It really piqued my interest that the organizer had never spoken to the press," says Ms. Rudick, who writes primarily about interior design. "[I thought] it was really cinematic. The thought occurred to me that it could be a really beautiful short documentary."
Searching for the Diner's Inventor
Ms. Rudick traveled to Paris to seek out Mr. Pasquier, though he was not an easy man to locate. "His friends were very, very protective of him, since the dinner is equitable and everybody's the same," she says. "There's not really a leader."
Ms. Rudick finally met with a friend of Mr. Pasquier's, who reasoned that, since the 25th anniversary of the original Diner en Blanc in Paris was approaching, it should be documented for the sake of posterity. With a modest budget, a small team and a limited ability to communicate in French, Ms. Rudick returned to Paris eight times to conduct interviews, attend secret meetings and document the preparations for the 2012 Diner in Paris. "I had never done this before, so every time I would get to a new step, I'd have to learn," Ms. Rudick says modestly. "It was literally putting one foot in front of the other."
Diner En Blanc, which runs 40 minutes and is the product of hundreds of hours of footage, follows Mr. Pasquier and other organizers and attendees as they traverse the streets of Paris, scouting out the next location for the event, choosing the perfect bottle of wine, shopping for cheese and baguettes and having white clothing made just for the festivities.
Though the celebration has become increasingly popular in cities around the world—tens of thousands of people requested invitations for 3,000 coveted spots at the Lincoln Center dinner last year—Mr. Pasquier is quite modest with regard to the must-attend phenomenon he has set in motion. "I never had a particular idea in mind. I wanted to prove nothing, and I have proven nothing," Mr. Pasquier says in the film. "Except perhaps that there are things that are not commercialized and still work very well, if everyone participates."
The strict rules of the Diner are a key part of the event's continued success. All participants must wear white. They must bring a beautiful picnic and a table of a specified size. They must arrive on time. Men must sit on one side of the table, women on the other. Guests must attend on the specified date, no matter the weather. Those who fail to abide by the rules are barred from future dinners. "The dinner is a magic moment, only if everybody plays the game," Eric Leprince-Ringuet, co-founder of the Diner en Blanc, notes in the film.
Despite cultural differences in the cities around the world where the Diner now takes place, participants all tend to abide by the rules. The celebration does have a slightly different character in each city, however—participants tend to take on local interpretations of food and wine, as well as the dress code. However, the traditions and the air of civility mostly remain the same. Having attended the Diner en Blanc in Paris and last year at Lincoln Center in New York,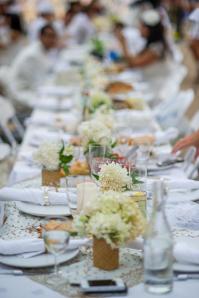 Ms. Rudick was struck by the similarities between the events. In New York, she says, diners made friends with one another and shared their wine, cheese and desserts. "People really dressed up, they respected the rules," Ms. Rudick says of the event in New York. "I would say it was incredibly social, just like the one in Paris. I was surprised everybody in New York came at the same time."
Diner in New York
The New York version of Diner en Blanc in New York features briefly in Ms. Rudick's film. Filmmaker Albert Maysles, who created documentary films including Gimme Shelter (1970) and Grey Gardens (1975) with his brother David Maysles, and later many projects of his own, shot footage for Diner en Blanc at Lincoln Center. Mr. Maysles was struck by the Diner's power to bring people together.
"It's a way of breaking divisions and finding love for thy neighbor," Mr. Maysles said. "The more you know your neighbor, the more the possibilities of love, the more the possibilities of developing your community beyond just a diverse group of people who have no connection with one another. It's funny how an event can be more than an event."
Paola Mathé, a New York lifestyle blogger who is originally from Haiti, attended the Diner en Blanc in New York last year. "The event was just everything I imagined," Ms. Mathé says. "Everyone I encountered was there for the fun. Some people had elaborate centerpieces on their tables, and the outfits were just amazing. It felt like I was in a dream. And it doesn't hurt that I went with my boyfriend. It was like a magical date."
Ms. Rudick's documentary premiered at the Palm Beach International Film Festival on April 9 with a warm reception from about 100 audience members. Iris Apfel, New York fashion legend and the subject of Mr. Maysles' upcoming film Iris Apfel: New York's Rare Bird of Fashion—which Ms. Rudick is producing—was in attendance. "I thought it was charming and I thought that Paris was beautiful," Ms. Apfel says. "I think that the whole idea of the film is very inspiring, and it would be nice if the world could run that way. I think promoting friendship and good will is certainly a wonderful thing."
Ms. Rudick plans to take Diner en Blanc: The World's Largest Dinner Party on the film festival circuit. "I just hope that bonds of friendship and that kindness just transcends logistics and all else comes through," Ms. Rudick says. "That's kind of the takeaway. But just to sit there for 40 minutes and watch Paris would have been enough for me."
npring@observer.com
CORRECTION: In a previous version of this article, The Observer stated that Diner en Blanc: The World's Largest Dinner Party will appear at the Hamptons International Film Festival. The film has been entered into the festival, though selections have not yet been made.