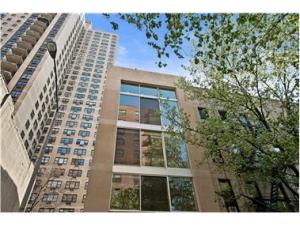 Last we checked in with Upper East Side developer Solomon Asser and his Tecny Group, they were turning a carved-up, 16-foot-wide apartment building back into a single-family residence. This time, Mr. Asser is going the other way: he recently listed a commercial building that his group bought back in 2011 and has carved up into three residential units.
Mr. Asser paid $3.75 million for the building at 350 East 81st Street, just off First Avenue ("the heart of the Upper East Side," exaggerates the listing). "The building was in really bad shape because it wasn't taken care of," Mr. Asser told The Observer. "A totally dilapidated building. It was turned into some kind of a commercial space at a certain time. The previous ownership just wanted to get out."
While the listing (Oren and Tal Alexander at Douglas Elliman have the exclusive) boasts "a much sought after limestone façade," the structure lost its pre-war sheen somewhere along the way and now resembles a contemporary building.
But what the building lacks in historical detail, it makes up for in light and oversized windows. "The units offer double height ceilings," per the listing, "and open, spacious floor plans allowing an abundance of natural light into the space with windows on all four sides of the building."
"It's flooded with light, very zen and clean," Mr. Asser told us. "It's more like downtown living, like a loft space."
But for the luxury of light, space and downtown cool, a buyer will have to pay a rather lofty price: Mr. Asser and the Tecny Group want $17 million for the renovated building.
And if that sounds pricey, it's at least a bit of a deal compared to what they wanted last year, when they listed it with Nestseekers' Ryan Serhant and Nick Jabbour for $19.5 million.
While the upside for Mr. Asser would be substantial, he has managed to flip Upper East Side properties successfully in the past. He paid $5.9 million for 14 East 95th Street back in 2007, selling it onward for $14.25 million four years later.
The Yorkville building is mostly being marketed towards investors (the older listing waxes poetic about projected cap rates—4.5 percent!), but Mr. Asser pointed out that the arrangement—two duplexes and a simplex—leaves a potential buyer with a lot of options.
"It can be done as an owner with rental units"—the units are also listed for rent, ranging from $15,000 a month for the two-bedroom to $32,000 for a three-bedroom"—but it could also be done as "a whole family who can be housed in the same building," he noted.