CANNES, France — Cannes is winding down its 66th edition (the awards are doled out on Sunday night) and an elegiac mood has reliably settled on the Mediterranean town. Venerable trade publications like the Hollywood Reporter and Variety as well as Euro counterparts Screen International and Le Film Français stopped publishing their special daily print editions on Thursday, ceding the breathless industry reports and film reviews to the handful of remaining bloggers while everyone else beelines to the Nice airport. And the cinema bazaar known as the Marché du Film, with its hundreds of merchant kiosks and schlocky posters for z-grade fare such as FDR: American Badass ("A New Deal for Nazi Werewolves," reads the tagline), is being disassembled and boxed away for another year, as local workers roll up carpets and haul off billboards. Another dose of mid-afternoon rainfall also soured the mood, especially for the hundreds of soaked moviegoers cowering in the outdoor queues. (The local African street vendors have been making a killing this week, switching out sunglasses for umbrellas and hawking their inventory for 20 euros a pop.)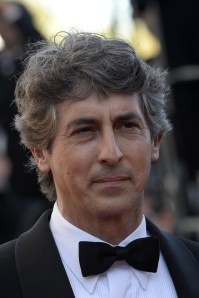 So it's apt that Nebraska, a dour and turgid seriocomic slice of Americana from Alexander Payne, finally made its end-of-fest debut on the Croisette to a respectful if muted reception. A major setback in an otherwise formidable career of humanist works, Mr. Payne's inert father-and-son road trip movie from Billings, MT, to Lincoln, NE, is a strangely unmodulated drama compared to the symphonic portrait of emotions that colored his previous film, The Descendants. (It also boasts a stark and uninspired use of black and white cinematography, adding another relentlessly bleak dimension to the picture.) Bruce Dern plays the doddering dad who insists on trying to cash out a mail-order subscription solicitation disguised as a spurious sweepstakes claim that he won $1 million. And former SNL clown Will Forte (in an admirable but underwhelming stint as straight man) plays his put-upon son, whose resentful attitude towards his indifferent father predictably softens into a forlorn respect and belated love. Meanwhile, everyone in Mr. Dern's hometown actually believes that the ridiculous windfall is true and tries to shake him down for a piece of the action.
The completely ridiculous contrivance is poorly written and tremendously condescending, especially to those flyover-state denizens, who come off as a population of old coots and rubes. Mr. Payne's intent is to bring meaning and value to lives lived poorly, and to show how adult children learn to see their parents as flawed human beings with a lifetime of good intentions, bad instincts and a dollop of self-sabotage. But the execution is smug and lazy, and a pale imitation of the profoundly perceptive films that Mr. Payne has produced for almost two decades.
In stark contrast to the cinematic euthanasia of Nebraska comes Blue is the Warmest Color, Abdellatif Kechiche's ebullient three-hour lesbian romance that chronicles the emotional, spiritual and physical maturation of a confused teen into a wise woman (the relevatory Adèle Exarchopoulos is the lead, while her lover is played by sensuous French model-turned-actress Lea Seydoux). The Sapphic bildungsroman never pulls its punches, either, with extremely graphic and prolonged (at times animalistic) sex scenes between its leads—if ever there were a same-sex Kama Sutra for women, these two would be the perfect practitioners.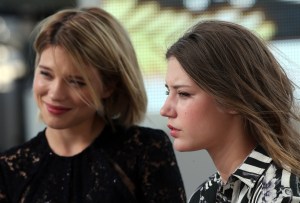 Remarkably, though, the explicit scenes never really feel pornographic, especially since the film isn't about titillation or arousal; the lovemaking is instead quite tender (although often impressively athletic) and feels absolutely justified in order to build character over the span of many years, from high school to young adulthood. Besides, the physical encounters are a fraction of the three-hour running time, which is otherwise devoted to quotidian rhythms and quietly truthful revelations rendered in compassionate detail. Nothing less than a triumph, Blue is a major work of sexual awakening and Dourfirst love that, in its naturalistic and unsensationalistic approach, feels like a landmark.