CANNES, France — Liberace fluttered into the Cannes Film Festival this morning and graced the masses with the heartfelt Behind the Candelabra, Steven Soderbergh's directorial swan song and a touching May-December love story between Mr. Showmanship (Michael Douglas) and Scott Thorson (Matt Damon), his longtime arm-candy companion. (American audiences with a good cable package or their friend's HBO-to-Go password can watch it this Sunday night.) Mr. Douglas is astonishing in a deeply committed, vanity-free performance as the effeminate, wildly successful and flamboyantly closeted piano player; and Mr. Damon brings true pathos to his role as Liberace's unhappy boy toy. Delightfully outrageous while almost never feeling campy, with a beautiful script by Richard LaGravenese, Candelabra is the first true gay-marriage drama, an apt romance for the Obama Age where homosexuality, bedazzled as it may be in this outré '70s-'80s period piece, is never presented as alien or perverse. (Probably the most scandalous part of this film is seeing how much Liberace loved to cook at home for Scott and sit on the couch cuddling over a bowl of popcorn.) This is a fractured fairy tale about two lonely souls, not a True Hollywood Story of immoral decline, and the result is all the more resonant.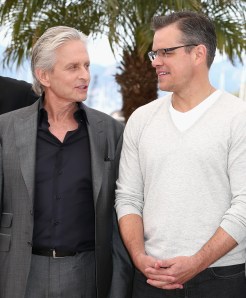 The press conference afterwards was aptly emotional (though still properly ribald), with Mr. Douglas clearly choking up about the chance to play this part. "It was right after my cancer, and this beautiful gift was handed to me," he said after a pause to hold back tears. "And I'm eternally grateful to Steve and Matt and Richard for waiting for me."
The occasion was also a sentimental one for Mr. Soderbergh, who won the Palme d'Or here in Cannes in 1989 for his debut, Sex, Lies, and Videotape. "At the end of the day, it's really about two people in a room," he pointed out about Candelabra. "And that was what my first film was about." He even reminisced with longtime Cannes moderator Henri Behar, who had been in that same conference room with him more than two decades ago. "My hair was darker," Mr. Behar said. "And I had hair!" added Mr. Soderbergh.
Mr. Damon laughed with the press about his many scenes between the sheets with Mr. Douglas. "I now have things in common with Sharon Stone and Glenn Close and Demi Moore," he said. "It's great. We can all go out and trade stories." But the main focus of attention was Mr. Damon's revealing performance—especially the Brazilian spray tan he had gotten for the part. "The world really needed to see this," said Mr. Soderbergh, who deliberately exploited (with Mr. Damon's encouragement) the Oscar winner's derrière, skinny tan lines and all. "Tonight, we'll see it on the biggest screen ever, which is jarring," laughed Mr. Damon. "This is something you can't unsee. It will be seared into your memory."
Another hit in Cannes, which premiered last night, is an equally delightful look at excess. You want spiritual decadence? Look no further than The Great Beauty. A major revelation and one of the great triumphs of the festival, Paolo Sorrentino's deliriously louche take on existential despair in the sumptuous bosom of Rome is a 21st century version of La Dolce Vita, a swirling ode to the Eternal City that will make art-house audiences swoon. At last night's press screening, virtually the entire crowd, floored by the film, sat in stunned silence through the entirety of the placid end credits—an almost unheard-of occurrence at a festival that prides itself on stampedes from one screening to the next.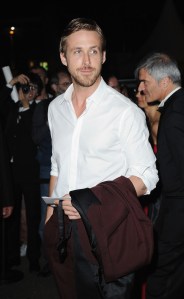 The suave Italian actor Toni Servillo plays Mastroianni's celluloid heir, a 65-year-old journalist named Jep Gambardella with an early-career literary novella under his belt and no accomplishments other than attending debauched bacchanales ever since. And as acquaintances, friends and lovers drop like flies, Jep wanders the corridors of Roman high society in search of an enduring connection that will moor him to the world. "Roots are important," says a Mother Teresa doppelgänger who crosses paths with Jep, in a turn that's simultaneously satiric and haunting—a tone that Sorrentino astonishingly maintains throughout the film with a self-assurance that makes his high-wire balancing act seem effortless. It's a perfectly tailored suit of a film, made with the most supple material and cut with masterful lines.
Less than a week remains at the Cannes Film Festival, but major titles are still to unspool, including tomorrow morning's world premiere of Only God Forgives, Ryan Gosling's reteaming with his professional BBF, the Danish director Nicolas Winding Refn. Their last effort was the cool-as-ice crime caper Drive; this one is their martial-arts revenge flick. Harvey Weinstein unveiled a few minutes of footage on the Croisette last Friday that made jaws drop, including a quick snippet of Oscar-nominee Kristin Scott-Thomas as a domineering matriarch with a baroque potty mouth ("How many cocks can you entertain in that cute little cum dumpster of yours?" she meows at her son's sexy date). Further transgressions await.