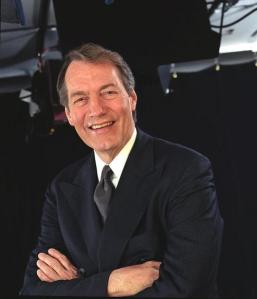 Is waking up to Charlie Rose on CBS This Morning and ending a hectic weekday by watching Mr. Rose's interview show just not enough Mr. Rose?
Good news: starting in July, PBS viewers will be able to kick off their weekends with the well-respected newsman. Charlie Rose Weekend , a new 30 minute series hosted by Mr. Rose, will air on Fridays at 8:30, the non-profit public broadcasting service (funded by "viewers like you") announced this morning. 
"PBS is my first broadcast home and I'm excited to embark on a new project that, while distinctly different in nature from Charlie Rose, will build on its history and harness the possibilities of the future by a full use of technology and social media," Mr. Rose said in a statement. "We will offer a fresh look at the people shaping our lives and the questions that demand answers and context.  By bringing together top newsmakers each week and engaging the audience in innovative ways, we will invite viewers to start their weekends on Friday with PBS."
The show, which will draw on Mr. Rose's nightly news show, will focus on "the events and conversations shaping the week and the week ahead"  in politics, science, business, culture, media and sport.
"Bringing Charlie Rose to Friday nights on PBS provides a natural bridge between our Friday evening news and public affairs programming and our arts and culture programming," said Beth Hoppe, PBS Chief Programming Executive and General Manager, General Audience Programming. "In his 20 years with PBS, Charlie has become known for his broad-based curiosity and ability to connect the dots—traits he will also bring to this new show. The show promises to be a fresh, dynamic addition to our Friday night lineup, and we are thrilled to bring Charlie to primetime on PBS."
Kicking off the weekend by watching Charlie Rose should provide plenty of insightful opinion–perfect for sounding informed about current events at Saturday brunch or Sunday dinner.