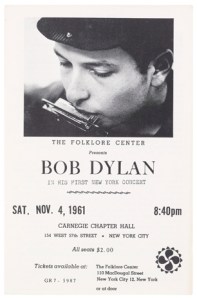 The lyrics for an unreleased Bob Dylan song, "Go Away You Bomb," will be auctioned at Christie's on June 26. The song, according to Rolling Stone, was written by Mr. Dylan for Izzy Young of the Greenwich Village Folklore Center in 1963. The lyrics sat in a drawer in Mr. Young's house in Stockholm for years before he rediscovered them recently.
Here's a sample lyric:
My good gal don' like you none an' the kids on my corner are scared a' you

An' my friends 're gettin headaches that split an' spit an'

That kind a' feelin' is rubbin' off on me an' I don' like it none too good
The lyrics have an estimated price between $40,000 to $55,000, according to Rolling Stone. Also for sale is a poster–pictured at left–for Bob Dylan's first New York concert in 1961 at Carnegie Chapter Hall.