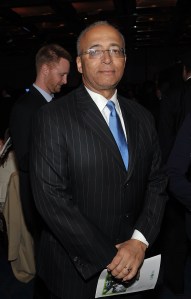 Earlier today, former Comptroller Bill Thompson came out against the Upper East Side waste transfer station, a hot-button issue that has aroused immense local tensions from residents who accuse it of being a bungled and dangerous project of the highest order. With his announcement, however, Mr. Thompson generated some of the harshest criticism he's received thus far as he campaigns for mayor.
Mr. Thompson said he was staking out the position in order to protect children and public housing residents living near the East 91st Street site, but Council Speaker Christine Quinn, the race's front-runner, who supports the station, tore into Mr. Thompson and accused him of supporting dumping Manhattan's trash in poor neighborhoods of color.
"The days of environmental racism have to come to an end," she contended when asked about Mr. Thompson's announcement earlier today. "We have, for far too long in the City of New York, put all the municipal refuses into low income neighborhoods of color … No community, regardless of how much money that community has, is going to be exempted from its municipal responsibility."
Ms. Quinn, according to the transcript of her remarks later released by her campaign, did not cite Mr. Thompson by name, but said directly that anyone who supports his advocacy opposes "reducing asthma rates in low income communities."
"I think anybody who isn't standing in support of this solid waste management plan, who isn't supporting the 91st Street facility, is standing for raising asthma rates in places like Williamsburg and the South Bronx," she continued. "You can't always have it both ways and you can't have it both ways in this case. You're either for reducing asthma rates in low income communities of color, getting trucks off the road, or you're not. It's that simple."
Mayor Michael Bloomberg's office also piled on over Twitter. Marc La Vorgna, Mr. Bloomberg's press secretary, blasted Mr. Thompson's announcement as "Pander 101: oppose something, propose no solution," for example, while Deputy Mayor Howard Wolfson said Mr. Thompson "shamelessly panders."
Although the Thompson campaign did not immediately have comment on the backlash, Thompson strategist Jonathan Prince–also over Twitter–said Ms. Quinn's statement was misleading and "putting politics over principle." He added, "#shame."
Update (5:08 p.m.): Mr. Prince released a statement in response.
"Unlike Speaker Quinn, Bill Thompson believes it's a terrible idea to dump garbage and exhaust fumes on top of a playground," he said. "No site in the city's proposed waste plan exposes more children or more minorities to environmental hazards than the 91st Street location. We all know the Speaker doesn't have much patience for principle, but now we know that when she loses control she can't be bothered with the facts either."
Furthermore, Upper East Side Assemblyman Micah Kellner, one of the most passionate critics of the plan, reached out to Politicker to fiercely criticize the speaker's logic.
"Her comment is just factually incorrect. None of that garbage is going into South Bronx right now," Mr. Kellner said, arguing that the vast majority of public housing residents affected by the sanitation plan are in his district. "Maybe Chris hasn't read that five borough waste management plan that she helped pass."