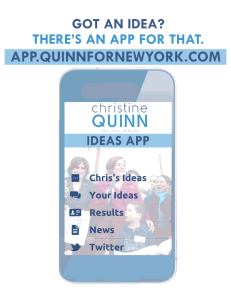 Most New Yorkers have given little thought to this fall's mayoral race. But City Council Speaker Christine Quinn, the early front-runner, thinks they'll nonetheless be interested in a new campaign app.
Per her campaign, the "IDEAS App," announced Thursday, "will give New Yorkers easy access" to Ms. Quinn's "policy proposals, ideas for New York, and help stay connected with campaign."
"The tool will serve as a resource for New Yorkers and provide simple, direct access to policy proposals and will also allow users to submit ideas of their own to the candidate," they said.
Ms. Quinn was set to unveil the app at a press conference at 11 a.m. Thursday–which just so happens to coincide with an earlier-announced press conference by one of her challengers, Bill Thompson, who "will receive a major endorsement of his plans to rebuild New York City's working class," according to his campaign.
Ms. Quinn's campaign said the overlap was purely coincidental.
Update (1:55): During her press conference outside of the Apple store in Midtown, Ms. Quinn touted the app as a crowd-sourcing tool that would give New Yorkers the chance to share their ideas with the campaign.
"This new tool is a way to reach even more people and get more feedback from more people about what they're experiencing in their lives and in their neighborhoods and what they think the solutions will be," she told reporters, wishing them "Happy app surfing!" at the end of her speech.
With the app, she rolled out several new policy proposals, including a push to get the MTA to install MetroCard machines on street level near major bus routes, and as well as a subway countdown clocks outside of stations so that riders can see when the next train will arrive before they swipe in.
As the debate over policing tactics has grown more heated, she also called for the development of high-tech gunshot sensing technology that would alert police when shots are fired in high-crime neighborhoods.
Ms. Quinn further pointed to several ideas she said had come directly from constituent outreach, including new rules unveiled this week that ensure the city's parking meters don't charge drivers when they're out of paper and a law that gives tenant the right to sue landlords for harassment.