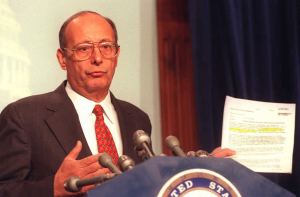 In what may be the most direct and harsh attack to emerge from her campaign so far, Council Speaker Christine Quinn took her Democratic rival Bill Thompson to task today for his cross-partisan support from former Senator Al D'Amato.
"Al D'Amato isn't just anti-woman," an email from Ms. Quinn's campaign declared to supporters, "he is anti-choice, anti-Medicare, and anti-civil rights. He also had the dubious honor of being known as the most investigated Senator in New York history."
Earlier this morning, the New York Times profiled Mr. D'Amato's extensive fund-raising efforts for Mr. Thompson. In the piece, Mr. D'Amato slammed Ms. Quinn as "a political boss in the worst sense." Earlier this week, Mr. D'Amato also mocked  Ms. Quinn for revealing she had suffered from bulimia and alcoholism.
Reacting to this, the Quinn campaign declared that Mr. D'Amato, a Republican who lost to now-Senator Chuck Schumer in 1998, would gain a "toehold in City Hall" if his candidate won.
"Now, as the chief fundraiser for one of the Democrats running for mayor, Al D'Amato is attacking Christine Quinn," the email continued. "But fortunately, it's going to backfire. The last thing Democrats are looking for in a Mayor of New York is someone who is "proud" to have Al D'Amato's support. Al D'Amato opposes everything Democrats stand for. Thankfully, Al D'Amato was thrown out of the U.S. Senate in 1998, but what we don't need is Al D'Amato getting a toehold in City Hall."
For a campaign that has largely limited its attacks to barbed responses to her rivals' aggressions–usually from Public Advocate Bill de Blasio, not Mr. Thompson–Ms. Quinn's criticisms today stand out. However it was not an all-out attack. The email did not mention Mr. Thompson by name or refer directly to Mr. D'Amato's comments on her revelations. Instead, her campaign, the nominal front-runner in public polls, simply sought to position itself as one opposed to the former senator's more conservative political brand.
"Help us send a message to anti-choice, anti-Medicare, anti-gun control Al D'Amato that, as Democrats, we're not interested in the kind of right-wing attack-style politics that are synonymous with his name," they concluded, urging volunteers to sign up to work on Ms. Quinn's behalf.
The Thompson campaign did not immediately return a request for comment.
Update (2:55 p.m.):
Mr. Thompson's campaign fired back with its own sharply-worded email to supporters titled "Character Counts" penned by two of his most prominent female supporters: Betsy Gotbaum, the former public advocate, and Merryl Tisch. In it, they described Mr. Thompson as "the only candidate with the experience and temperament to get things things done"–a not-so-veiled attack against Ms. Quinn.
Here's the full letter:
This election is about real leadership on the issues women – and all New Yorkers – care about.  For us, the choice is simple. Bill Thompson is the only candidate with the experience and temperament to get things done. He'll lead on issues like expanding equality, creating better schools, ensuring safer streets, and growing our middle class. 

That's why we're asking you to click here and join "Women for Thompson!"

Character counts. Bill is only candidate in this race who has provided the real leadership every New Yorker in every borough deserves.

Thanks again,

Merryl and Betsy
P.S. – We're with Bill – and women across New York should be too. Join Bill today by signing up for "Women for Thompson."