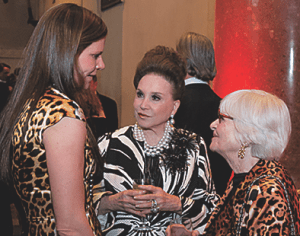 INT. MUSEUM OF NATURAL HISTORY — EVENING CINDY ADAMS is standing with a friend among a crowd of hundreds, surveying the black-tie attendees at the PEN Literary Gala, who include Philip Roth, Zadie Smith, Jay McInerney, Jennifer Egan, Candace Bushnell, Joanna Coles and Peter Godwin.
Ms. Adams is wearing a splashy, graphic print jacket and a bun atop her head. A stream of partygoers greet her. She is approached by the Transom and asked how to work a room.
MS. ADAMS
The first thing you do is ignore Salman Rushdie. Because there's no party he's not at.
THE TRANSOM
Oh my goodness. Okay. Did he do something?
MS. ADAMS
No. He's just everywhere.
THE TRANSOM
You've been doing this a while. How do you identify celebrities in a room full of writers?
MS. ADAMS
I am hoping some of these people will recognize me.
I look for a few celebrities—Molly Ringwald is schlepping around here—and whoever else I see. I will tell you, however, that these writers do not dress well.
Take a look at this lady. (Points to a woman across the room.)
You see that big behind and the big arms?
LADY #1, a slender, attractive older woman smiles and heads straight for Ms. Adams.
LADY # 1
I could not believe that Nora died two months after she gave me that prize.
I mean, didn't she look good that day?
MS. ADAMS
She did. She would not let anybody know.
LADY # 1
We were so close. We always celebrated our birthdays together.
THE TRANSOM
Were you close with Nora Ephron, Ms. Adams?
MS. ADAMS
I didn't go to her place for Passover, but we knew each other.
THE TRANSOM
Nora Ephron is really having a moment.
MS. ADAMS
She will last for a little while. Everybody is 'Nora! Nora!'
Which is why Tom Hanks will win something.
(Leans in toward The Transom.) I have no idea who this lady is.
In the background, writer Susan Orlean walks past New Yorker editor David Remnick, who is standing near Salman Rushdie. LADY #2, a brunette in a sparkly white dress, leaves Mr. Rushdie's side and approaches Ms. Adams.
LADY #2
Excuse me. My dad is such a big fan of yours. He's got a King Charles Cavalier.
He told me, years ago your dog ran out, and he grabbed it, because he's such a big dog lover.
And you wrote him a thank-you note. Do you remember him? …In a Bentley?
MS. ADAMS
Yes! Yes, I do! He never sent me a note!
LADY #2
You never gave him a return address. You just said, "Thank you, Cindy."
MS. ADAMS
I work at the Post! He could have found me there … Whose dress are you wearing? It's gorgeous.
LADY #2
This dress was made for me by Roberto Cavalli years ago. It fits. I'm shocked.
MS. ADAMS
Look at that figure! I hate you. Go away from me!
LADY #2
Let me tell you. I'm 45 years old. I have a 19-year-old. I'm disciplined. I'm a vegan…
I had to tell you for the sake of my dad. He's not a public person.
He's a private businessman. He lives in the Galleria. He's in Fisher Island most of the time.
MS. ADAMS
When he comes back, he can buy dinner. I will have it with him.
LADY #2
He would love that… I know that Salman is my boyfriend.
He's a good man. I'm a woman, not a child.
I'm not gossip. I'm a mother. (Disappears into the crowd.)
THE TRANSOM
That was Salman Rushdie's girlfriend?
MS. ADAMS
I have no idea.
Ms. Adams then takes the Transom by the scruff of our silk jacket and walks us around the room.
MS. ADAMS
Look at that lady in green. With her breasts hanging out like anybody wants to touch them!
THE TRANSOM
Do you think people do or don't want to touch them?
MS. ADAMS
No! Nobody does. I'd rather have a bagel than touch her things. Look at this one.
The pants don't go down to the floor, and her crotch is very visible.
She's got a bag that nobody would wear anywhere. On Pitkin Avenue they would refuse it.
THE TRANSOM
Pitkin Avenue, where's that?
MS. ADAMS
It's on the Lower East Side. Do you know Delancey?
Do you know Rivington? What are you, gentile?
Ms. Adams nods toward a guest in a loud summery print.
MS. ADAMS (CONT.)
Look at that one.
THE TRANSOM
It's like Lilly Pulitzer died or something.
MS. ADAMS
Very good! That's one in a row for you.
Look at that bag. They carried those during the war!
THE TRANSOM
What are you wearing, Cindy?
MS. ADAMS
It's old Armani. It's $4,500 three years ago. Look at my pearls.
I don't believe in poverty. It's not my thing.
Dinner bells begin to chime. Guests make their way to their tables. The Transom starts to part ways with Ms. Adams. We thank her for her time.
MS. ADAMS
Just don't quote me being too vicious!