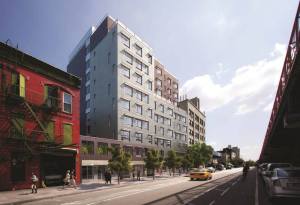 Fifty-five units of affordable housing may not do much to stem the tide of gentrification washing over Williamburg, but they will allow a not-insignificant number of low-income families to stay in the increasingly expensive neighborhood.
Today, the Department of Housing Preservation and Development announced that it has selected MDG Design and Construction and the North Brooklyn Development Corporation to build a mixed-use affordable housing development at 337 Berry Street, the site of a former Landmarks Preservation Commission warehouse. The development team was selected nearly a year after an RFP went out for the project, which will include 55 low-income units, ground-floor commercial space for a grocery store, community space for tenant services and an open space for use by future tenants.
The announcement comes in the midst of rising community outrage over the dearth of affordable housing units promised by the city as part of the 2005 Williamsburg rezoning. Earlier this week, DNAinfo reported that eight years after pledging to build 1,345 affordable housing units on city-owned land in North Williamsburg, only 19 units, or two-percent of the promised tally, have been completed.
A rally is even scheduled for today to "commemorate eight years of broken promises," according to DNAinfo; Community Board 1 Chairman Chris Olechowski told the news website that "displacement is the horror of what takes place without thinking through what you're doing to your local people" and urged local residents to attend.
"What a great honor it will be to again work alongside my lifelong neighbors and friends to continue our fight to combat displacement in our community," said Richard Mazur, the executive director of North Brooklyn Development Corporation, in a release about the project. "Through our collaborative work with all the members of Mobilization Against Displacement (MAD) we have again taken another positive step toward lessening displacement in our community while fulfilling the greatest need in Community Board 1 today—the availability of quality affordable housing."
The mixed-use complex will rise on three city-owned lots between South 4th and South 5th streets, the site of an old Landmarks Preservation Commission warehouse, which was used to store old doorknobs, transoms, newel posts and any number of other architectural fixtures and ornaments salvaged from demolition sites; the items were then sold at low-cost to the public, so they could be used to restore buildings that had earlier been stripped of their own historic fixtures. (The program ended in 2000 due to budgetary constraints.)
The affordable housing units will be available to families earning between 50 and 60 percent of the area median income, which is $49,950 to $51,540 for a family of four.
The project displayed "the City's commitment to thoughtfully repurposing its resources to benefit the community," wrote HPD Commissioner Mathew Wambua in a statement. "I look forward to seeing this once vacant warehouse transformed into safe, quality affordable housing that will expand housing opportunities for working-class families in this community."
As for the project's other goal of enriching "the character and vibrancy of the neighborhood and act as a catalyst for future growth in both the public and private sectors"—we'd hardly say that Williamsburg is need of any development catalysts.