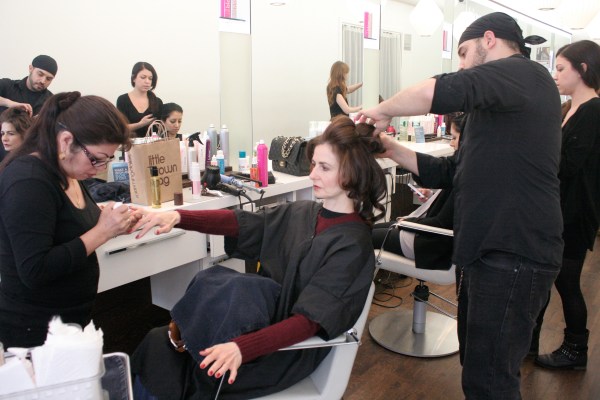 Amidst the chicest clubs and restaurants of New York City's Meatpacking District sits the bright pink home of an even bigger trend. Blow, situated at 342 West 14th Street, is just one of the many essential blow-out stops getting penciled into the overflowing schedules of Gotham's hippest women. Blow-dry bars are taking the wash, cut, color and style hair-salon cycle to a one-stop, celeb-worthy style service.
"In New York City, there is always an occasion for a blowout," Diana Pratasiewicz, a manager at Blow, says above the roar of blow driers and quaint music. "Whether it's an important meeting, or you're not feeling so great and you just want to give yourself an instant makeover, or it's an event with the girls." Put simply, there's never a not good time for a blowout, except possibly when you've just had one.
It is a regular Friday afternoon at Blow: the appointment book tightly packed, the swivel chairs lining the length of the salon fully occupied, and the bustle of the street outside rivaling the bustle of customers inside.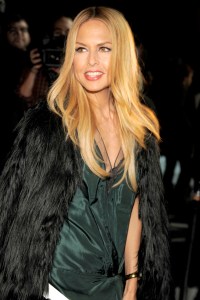 "We have women who have standing appointments with us: they come in on Mondays and they come in on Fridays," says Ms. Pratasiewicz, talking as swiftly as the stylists are working. "We're seeing more and more women fit that Blow Pro blowout into their schedule."
The "groomers" meticulously attend to every stray hair while clients peruse magazines, taking a minute to relax or, if they aren't running to another appointment, taking a few more minutes to get a manicure simultaneously with their blowout—an added service at Blow.
Maria Peterson, her hair sectioned off in clips, and nails being coated with a bright red sheen, blushes as we approach her. "I've become very dependent on these services," she says. Her dependency is closing in on a decade; she has been a client at Blow since 2005. "It's such a time saver," she adds. One stylist, drier in his left hand, round brush in his right, is tackling Ms. Peterson's auburn hair, while a second beauty professional works on her nails.
If two stylists and a 45-minute grim-to-glam transition isn't quick and accommodating enough, Blow has partnered with Nordstrom department stores to launch outposts in the West Coast and with Macy's in Herald Square to offer an even more time-saving range of services. The goal is to take efficiency another step forward with dry-style pods—an express blowout that revives style without a wash.
Blow's competitors aren't simply "on the map," they're all over it. At Drybar, you can get your blowout with a glass of champagne whether you're in Tribeca, Flatiron, Midtown, the Upper East Side or Murray Hill.
Anna Cooperberg, a student at Columbia's Journalism School, considers herself a Drybar regular. "Everything is taken care of, it's very dependable," she says. "Every detail is attended to."
From the "Straight Up" classic blowout to the "Mai Tai" (a sexy, beach-hair look) to the "Shirley Temple" (cute curls for the divas ten and under), Drybar has managed to put a modern spin on your grandmother's beauty salon, and women (sometimes even men) of all ages seem on board with the trend.
"If you have to go somewhere you can just hop in and hop out if you have an appointment," says Sahar Saleem, a 21-year-old client at Drybar. "A lot of women are devoted to that."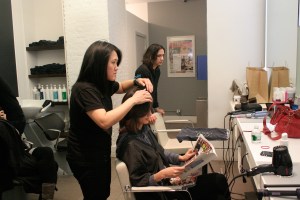 Ms. Saleem also admits that although "$40 isn't bad to get your hair done," it wasn't her top priority when it comes to spending decisions. And in a period when full-service hair salons are losing profits as consumers cut back on cuts and perms, a venture in this industry may seem more risky than opportune.
This didn't stop DreamDry CEO Robin Moraetes and uber-stylist and DreamDry co-founder Rachel Zoe, from opening their first location in New York's Flatiron District on Valentine's Day this year. In fact, Ms. Moraetes informs us that although the passé, regular hair salon industry is suffering difficulties in the market, the "quick-service blow-dry industry has seen a 30 percent increase in the last year."
Apparently, primetime Saturday appointments at DreamDry have to be booked weeks in advance. Not bad for the barely three-month-old establishment. "Our busiest time is early Monday morning," says Ms. Moraetes. "The busiest days are Fridays and Saturday mornings, by far." Luckily, they're open as early as 6:30 a.m. Monday through Friday.
"We always want to look and feel the best we can," Ms. Moraetes says, attributing near-magical powers to DreamDry's services. With a blowout, "you feel like you can pretty much accomplish anything." DreamDry's target woman is the mother, the daughter, the CEO, the assistant: actually, DreamDry's target woman is "everyone."
ygayduk@observer.com