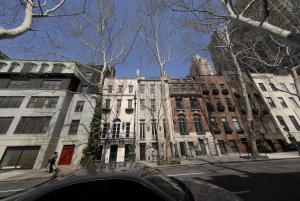 On March 19, the charming 11-room townhouse at 159 East 64th Street came on the market for $14 million, joining its once-removed neighbor at 163 East 64th, which was asking $24.9 million at the time. Then, almost simultaneously, the mansion in the middle—161 East 64th Street—was revealed as the Kips Bay Decorator Show House. Traditionally, the Kips Bay Show House has hit the market after its time in the spotlight—we imagine it would be hard to persuade an owner to turn his or her house over to teams of decorators and hordes of visitors otherwise—and sure enough, last week the show house was listed for $16 million with Sotheby's broker Roger Erickson.
With all three for sale in a row, we couldn't help but ponder the possibilities. Given the gaga real estate market, mightn't some deep-pocketed buyer take a fancy to the 60-foot-wide mega combo mansion?
Not very likely, brokers told The Observer. For starters, the windows (and hence the floors) of the three buildings almost line up, but not quite. Though this doesn't stop some owners from attempting a combo (Steven Croman is creating an uber townhouse from two very unaligned buildings on East 72nd), it is not advisable. Additionally, the home's facades do not match, so the buyer would either need to craft a new, unifying exterior for the gigantic manse or embrace a patchwork palace.
But even more importantly, the combined asking prices of the three townhouses—a dizzying $54 million—would not merely be stratospheric for a block this far east, but would break the townhouse sales record of $53 million set by the Harkness Mansion in 2006. (A record that was sadly tarnished when Larry Gagosian bought the mid-renovation mansion for $36.5 million five years later.) And that would simply be the price for the raw materials, to say nothing of the renovation costs.
"I don't think it would be economically feasible—or at least not very smart—to buy the three townhouses at the prices they're asking," said one Upper East Side townhouse broker.
"Who wants to have a 40-foot or 60-foot mansion a block from Third Avenue?" asked another.
Further snuffing out any remnants of our fantasy, 163 East 64th is now technically off the market. Though its former broker, Halstead's Eva Penson, hinted that the owner—Kenneth Laub—was still interested in selling. Which didn't surprise one top Upper East Side broker: "The house has been on and off the market for years," the broker said. "It's a distinguished facade, and immaculate, but frankly I can't see a house on this block trading for anything with a two in front of it."
And what of the sales prospects of the other houses?
No. 159, which once house famed florist Renny Reynolds, is unusually charming—it has an interior courtyard and carved Spanish ceilings—but it is a "bring your architect" situation and the price is not low.
Meanwhile, No. 161 has enjoyed one of the best advertising campaigns that money can't buy. But many brokers we spoke with expressed doubt that seller Richard Sharp would be able to get $16 million for "a very standard, very elegant house" that he paid only $6.5 million for back in 2003. (Another broker was less forgiving, calling it "tarted up.") Though at least there hasn't been any wear or tear in the last decade; Mr. Sharp admitted to The New York Times that he never moved into the townhouse and lives in a two-bedroom rental a few blocks north—he found the prospect of decorating too daunting.
But while the three townhouse combo might be off-the-table, that doesn't mean a two townhouse combo is out of the question. The buildings lie right outside the Upper East Side Historic District extension, so a facade change wouldn't be impossible and, as Mr. Erickson, No. 161's broker, pointed out, the combined price of 159 and 161 would be a more palatable $30 million.
"I could certainly see someone wanting a 40-footer," said Mr. Erickson. "And with the interior courtyard of 159 with the two-story atrium of 161, a combination would be very interesting."