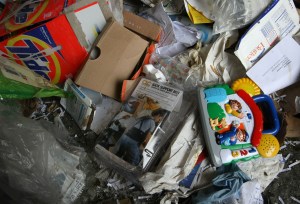 One man's simple search for the perfect art project turned into a battle with New York City Courts.
This week, a Manhattan appeals court overturned a $2,000 fine issued in 2011 to a Brooklyn carpenter, Albert Prince, for taking a TV antenna from the side of a curb. Yes, you read that right.
The legal battle began when Mr. Prince, 56, saw the discarded trash and thought the antenna would make a great addition to an art project he was working on. He pulled his van over to the side of the road and began to sift through the trash.
Moments later, he was confronted by two sanitation cops who issued him a fine for "unauthorized removal of residential recyclable material using a motor vehicle," a violation under title 48 of the New York City Code. The cops also impounded Mr. Prince's car,  requiring him to pay $500 to get it back.
Although two lower courts had previously upheld the fine, calling it a clear violation of the law, the appeals court found the fine so "excessive," or in other words so ridiculous, that it violated Mr. Prince's constitutional rights. The court refused to refund the fee for his impounded car because they learned that had he dealt with the matter earlier he wouldn't have been charged as much.