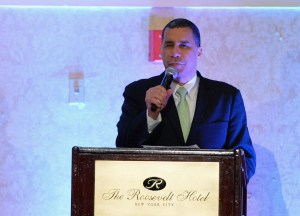 Former Governor David Paterson, who took the state's top executive post after Eliot Spitzer suddenly resigned amid a prostitution scandal, says he might not be done with politics just yet.
"I love public service. I love the people who do it," Mr. Paterson answered this morning when asked whether he'd run for veteran Congressman Charlie Rangel's seat if the incumbent retired. "I would listen to people."
Specifically, Mr. Paterson, a Democrat, cited a lack of leadership in the Republican-controlled House of Representatives as a possible motivation for running. He further complained that important issues, like student loan debt and housing foreclosures, were not getting the attention they deserved.
"Nobody seems willing to get up and take on any issue unless they're in the majority," Mr. Paterson, speaking in a talk radio interview with New York Post columnist Fred Dicker, explained. "And when that happens, it means that they're deal-makers rather than leaders. And that compromise that people make–just that little compromise–inevitably leads to corruption. Every time."
At the same time, the former governor also expressed reservations about making such a bid. First of all, he predicted that Mr. Rangel, an octogenarian who has done almost no fund-raising since his narrow re-election victory last year, would nevertheless seek another term. Additionally, Mr. Paterson said he felt very comfortable in private life and he might be too old for such a bid anyway.
"I wake up in the morning, everything is not my fault–it's really a great feeling," he said. "I'd be 60 years old at the time I took the seat, … so I can almost put it to bed and say 'no.' But then I watch the political landscape these days and I just feel that people are not talking about some of the issues that are really affecting people."
For his part, Mr. Rangel has not announced his intentions. Other potential candidates include Mr. Rangel's 2010 challenger, State Senator Adriano Espaillat, former Assemblyman Adam Clayton Powell IV and Assemblyman Keith Wright.