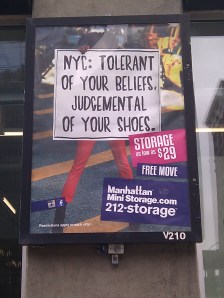 The PEN World Voices Festival, which took place at several venues throughout the city last week, is ostensibly devoted to highbrow literary achievement, featuring the likes of Philip Roth, Lewis Lapham and Naomi Wolf.
So it was surprising that Manhattan Mini Storage was the subject of a panel held Sunday in the Frederick P. Rose Auditorium at Cooper Union.
Off the Record enjoys the storage company's playful and provocative ads as much as the next media column—"Does This Butt Make My Room Look Small" is a classic—but on what basis do they qualify as literary achievement?
Jakab Orsos, the festival's director, told us he had thought of the panel himself, shooting down our theory of some kind of paid sponsorship. He said the ads are "more than funny."
"They're smart, brave, ironic in certain instances, and they always challenge the reader/potential client," he told us via email. "Quality literature is always raising disturbing questions."
Some examples: "Your closet space is shrinking as fast as her right to choose," says one memorable poster, with a metal hanger stenciled ominously in the background. Or in a more comic vein: "I'll hang out here till my owner realizes his new girlfriend's a bitch," reads the thought bubble of a blow-up doll.
At the panel, titled "Flexibility in Advertising," John Kenney, a copywriter and novelist, compared the ads to the textual art of Jenny Holzer—whoa!—whose work can be quite political.
Archie Gottesman, chief branding officer for Edison Properties, the parent company of Manhattan Mini Storage, is the brains behind the operation.
Years ago, she decided that storage alone just wasn't that interesting and started to mix things up with the help of a copywriter.
The ads weren't political at the beginning: "Peking duck service at chop suey prices," read one from 2002.
In 2007, though, when the "right to choose" poster came out, things started to change. The next year, Manhattan Mini Storage printed this jab at Sarah Palin: "What's more limited? Your closet or her experience?" And one lampooning George W. Bush as well: "Your closet's scarier than Bush's agenda."
It's a testament to the ads' place in the city's cultural milieu that the company was asked to design PEN's program cover this year. It looks exactly like a certain Manhattan Mini Storage ad—featuring a woman holding up a poster that hides her face—except it uses the festival's slogan instead of ad copy: "Without literature, it's all words."
But where to put them all?