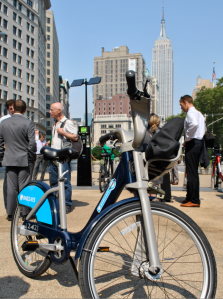 Heavy New Yorkers should probably think twice before jumping on a Citi Bike.
Though the Department of Transportation promised the bikes in the upcoming Citi Bike program are "sturdy, heavy bikes," they're not meant for overweight riders, according to a fact in Citi Bike's user agreement, pointed out by The New York Post yesterday.
The bikes, which can accommodate riders up to 6 feet 8 inches tall, and have titanium locks that DOT policy director Jon Orcutt said are "pretty much bombproof," apparently won't support anyone over 260 pounds.
The weight limit rule can be found in Section 5 of the terms of service, titled "prohibited acts." It states, "You must not exceed the weight limit for the Citi Bicycle (260 pounds)." All riders are required to agree to a contract before hopping on a bike, which includes the Section 5 provision.
But overweight bikers need not ride in fear—no one is going to be waiting for you with a scale.
"I think people will be self-selecting, practical and safe," Mr. Orcutt told The Post.
The DOT also stated that the limit is part of a legal provision that had to be included because of a deal with the manufacturer. The weight restriction also applies in other cities with bike share programs, including Boston and London.
"These technical specs are established by the equipment manufacturer and are the same as other bike share cities around the world and standard on commercially available bikes and components," DOT spokesperson Seth Solomonow told Gothamist. "We expect people will use the bikes safely."
The Citi Bike program, operated by NYC Bike Share, is set to begin later this month, with thousands of bikes at hundreds of locations all over Manhattan and Brooklyn. Riders have the options of renting a bike for 24 hours for $9.95, buying a seven-day Access Pass for $25 or signing up for an annual membership for $95.