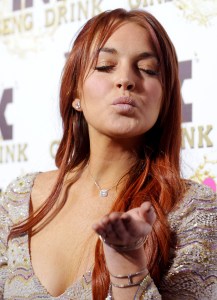 Generally, we try to stay away from Hollywood gossip because a) We are a respectable operation that cannot compete with TMZ.com and Perez Hilton and b) We are not in Los Angeles, so what do you care what Khloe Kardashian is eating  right now?
However, sometimes an event is so critical that it transcends the regional and becomes a national news story. Especially when the train wreck may be headed directly towards NYC. That's right, we are now obliged, as a New York publication, to inform you: Lindsay Lohan is on the run from her rehab engagement–guess that Coachella sobriety stint didn't take–and she might be making a break for it in the Big Apple.
And while this disturbing news does not have the city on lockdown quite yet, the silver lining is that this Lohandidty (meh, that'll do) led to perhaps the best newspaper sentence all week, courtesy of The New York Daily News and Lohan's attorney, Mark Heller.

See, Mr. Heller has been fighting with Santa Monica D.A. Terry White, who expected Ms. Lohan to turn herself into a Long Island facility today. Instead, Ms. Lohan showed up on the property of Morningside Recovery Center in Orange County, then somehow ended up at an electronics store nearby, where she got "spooked" by the paparazzi and headed to LAX…to fly to New York. Maybe to go to treatment? Possibly? More importantly, how does Lindsay Lohan have the ability to buy herself an airplane ticket these days? Not like she's on a Do Not Fly list (though she should be), but the logistics of the purchase just seem overly complicated, no? Unless she had an accomplice…
…which we know was not her attorney. D.A. White hadn't signed off on the Morningside treatment center, and Mr. Heller was just a little too cocky in announcing that Ms. Lohan had shown up at the wrong facility on purpose. Leading to him inserting shiny loafer directly into mouth:
"My client is ensconced in the bosom of that facility right now," he said, before realizing that his statement was not true.
Perfect. Perfect sentence. Now all that's left to do is raise our Lohan alert level to firecrotch red and lock our doors. Do not go to any Gatsby premiere parties tonight, and whatever you do, stay away from the Meatpacking district or any place a Ronson may be DJing.