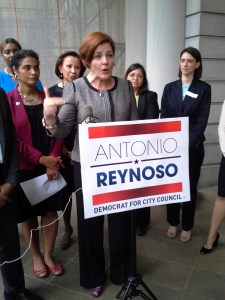 As he contemplates a run for City Council, scandal-scarred Vito Lopez isn't getting any more popular just because he resigned from the State Assembly on Monday.
That was made abundantly clear at a City Hall rally yesterday, where a bevy of women legislators and candidates,  including Council Speaker Christine Quinn, Congresswoman Nydia Velázquez and Councilwoman Diana Reyna, again denounced Mr. Lopez's candidacy and endorsed the disgraced pol's would-be rival, Antonio Reynoso.
"My advice is to cease and desist and do it now," Ms. Quinn said. "This is not only a fool's errand, it is an outrage and a complete show of arrogance. This is outrageous. You are continuing your clear disregard for women of this city by even thinking of running for City Council. And I have to tell him to stop while he is already behind before he loses again."
Ms. Quinn, who has positioned herself as one of Mr. Lopez's loudest critics since a lurid ethics commission's report revealed formers staffers' extensive sexual harassment allegations, has vowed to lead the efforts to help Mr. Reynoso win.
Ms. Velázquez, a long-time foe of Mr. Lopez's in Brooklyn, lamented the impact of Mr. Lopez's alleged actions on his constituents.
"He needs to do a lot of soul-searching," Ms. Velázquez said. "I didn't want to reach a point where I was in a position to say, 'I told you so.' But it is painful and I think that the community has gone through so much and if there's anything we need to combat right now, it's the cynicism and disillusionment with politics. Let's provide the community with a new beginning."
Like Ms. Velázquez, Ms. Reyna once fended off a strong challenge from a Lopez ally, narrowly winning re-election in 2009 in a campaign managed by Mr. Reynoso.
"There has to be a safer place for women throughout this city and throughout this state," Ms. Reyna said. "It is important that we all understand: As women, we have to guide the men in our lives. And it's important that men who don't understand that message stand clear of the way."
For his part, Mr. Lopez, who is being treated for cancer, said his decision about whether he will ultimately go through with a run for office again will depend on his health.