As a celebrity ghostwriter, Michael Malice gets paid to understand how other people think, and by all accounts, he does it well. The subjects of his books, like the comedian D.L. Hughley and the UFC fighter Matt Hughes, attest to that. But Mr. Malice, a kind of chameleon, has a reputation for blurring the sardonic and the sincere, and figuring out how he thinks might be the real challenge.
Last fall, for instance, Mr. Malice traveled to North Korea for five days. He gave three reasons for going. One, he was born in the Soviet Union, having emigrated with his parents to the Bensonhurst neighborhood of Brooklyn at age 2, and the trip offered him the opportunity to see, in many ways, the kind of oppression his family once experienced. Two, he simply thought it would be a fascinating thing to do. "And number three," Mr. Malice told The Observer recently at his apartment in Sunset Park, "so I could be a douche at parties and say, 'You've never been? You have to go. It's the new Milan!'" He smiled impishly.
Was he serious?
"He's so ironic sometimes that I don't even get it," said Mr. Hughes, whose memoir, Made in America: The Most Dominant Champion in UFC History, made the New York Times best seller list in 2008. "I really pay attention to what he's saying, because my brain doesn't work as much as his does."
One wonders what Mr. Hughes would make of Mr. Malice's latest project, an "unauthorized autobiography" of Kim Jong-il, for which he recently raised more than $30,000 on Kickstarter.
Mr. Malice had been toying with the idea before he went to North Korea and decided to go ahead with the project when he saw the country firsthand. He said he hopes to shed light on the terrible fate of the North Korean people by taking on the persona of their capricious former leader.
"He's not the kind of person who can come out and say something as is," said Michael Fazio, who worked with Mr. Malice on the book Concierge Confidential. "I think his gift is to twist it all up, and get you confused, but ultimately get you to the right place."
His surname, of course, isn't really Malice.
It's Krechmer.
"It's pronounced 'Malice,'" he said, smiling broadly.
There are any number of reasons why one might use a pseudonym, but mostly, according to Mr. Malice, his is a nod to two big influences: the cultural milieus that surrounded Andy Warhol and the punk movement, both of which spawned memorable nicknames, like Poly Styrene and Sid Vicious.
If you've followed Mr. Malice's career, this will make sense on another level. His work is unapologetically commercial, like Warhol's. Yet there is an air of defiance to it. Mr. Malice seems to be daring you to take his books—loud, gaudy things—as seriously as he does, and because they are successful, the dare is palpable.
Like the subjects of his books, Mr. Malice is an outsize personality, even though he stands only five and a half feet tall and looks quite boyish. His mind moves intimidatingly fast, and he is perpetually wired. His brown hair, flecked with gray, is flared up on the sides, as though two little devil's horns are sprouting from his skull.
The satanic imagery isn't inappropriate. In Ego & Hubris: The Michael Malice Story, a biographical comic book by the late Harvey Pekar, Mr. Malice, now 36, is depicted as a kind of Nietzschean weasel who abhors authority and spurns his friends, his family and his colleagues at every turn.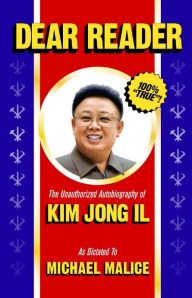 At one point in the book, for instance, a friend commits suicide, but Mr. Malice expresses no sympathy or regret or sadness whatsoever. "Now I don't understand why, if you are planning on killing yourself, you wouldn't sleep in," he scornfully notes.
Mr. Malice doesn't suffer fools gladly, and neither did Mr. Pekar, whom Mr. Malice befriended through a mutual acquaintance. "He finally met a Jew who was more obnoxious than him," Mr. Malice quipped, explaining that Ego & Hubris, which he never expected to come about, is true to life. But it's only an accurate portrayal, he added, insofar as it represents one part of his identity—albeit a big one.
"He projects an air of trollish bitchiness," said the writer Cole Stryker, a friend of Mr. Malice's. "But I think that anyone who knows him well would actually say that he's quite sincere, viciously loyal to his friends and to his ideals."
The comedian D.L. Hughley agreed. "I don't know him to be an overly angry cat," said Mr. Hughley, whose book, I Want You to Shut the F#ck Up, was written by Mr. Malice. "But I know he sticks by his convictions."
Mr. Malice is an avowed anarchist. He doesn't vote, he doesn't believe in marriage, he doesn't believe in God. But according to his friends, he's extraordinarily open-minded. He has to be, one would imagine, given the career he's chosen.
"I hate this idea that the personal is political," Mr. Malice said. "Especially with the nature of my work, I'm collaborating with people of all sorts of perspectives, and if they're living their truth, I'm their biggest fan."
One wonders, then, how Mr. Malice is faring as he takes on "the ultimate celebrity ghost," as he calls Kim Jong-il.
Of course, his latest endeavor, to be titled Dear Reader: The Unauthorized Autobiography of Kim Jong Il, isn't a collaboration. But over the past few months, Mr. Malice has become quite intimate with the late dictator's thoughts, at least as they appear in the books of propaganda he picked up in North Korea.
"I'm getting a little bugged out," Mr. Malice told The Observer. "I have to put myself in his high-heeled shoes as much as I can. He was painfully aware that when the people cheered for him, it was fake. And he's an evil, horrible man with the blood of millions on his hands, but you have to humanize him a bit."
In that way, Mr. Malice acknowledged that the book will be harder to write than previous ones. He genuinely likes the people he has ghostwritten for and keeps in touch with them to this day. Kim Jong-il? Not so much. But, he added, the "Dear Leader," as he was known, was such a boring thinker that it won't be much of a challenge to get inside his head. (The first sentence of the book: "I remember the day that I was born perfectly.")
"His worldview is very simplistic," Mr. Malice noted. "When you're not in touch with reality, you don't have to have a nuanced philosophy."
While Mr. Malice plans to make the book comical, he wants more than anything to draw attention to the plight of the North Korean people. To do so, he will have to play devil's advocate, a role he is not unfamiliar with.
In the book, which Mr. Malice plans to have finished by October, readers will find a defense of the North Korean prison camps, among other things.
"I think it's really important that people are aware of the extent of what's going on there," Mr. Malice explained. "So I have to have him talk about it, which he wouldn't really do otherwise."
Mr. Fazio backed up his ghostwriter: "Even with the sarcasm he brings to the project, what I sense is that he's horrified."
At his apartment not long ago, Mr. Malice seemed less horrified than wired to the point of fatigue. For the past several months, he has been slogging through dozens of volumes of North Korean propaganda, with titles like Kim Jong Il: Lodestar of the 21st Century, Kim Jong Il: The Leader of Youth Movement and A Paean of Great Love: Kim Jong Il and the People.
The books' sentences alone—syntactically tangled and rife with Communist double-speak—are mind-numbing, he said, and he plans to use them in the autobiography, mixing them up among his own words.
When asked for an example, Mr. Malice, who has a near-photographic memory, jumped up to retrieve a slim volume, called Kim Jong Il: The Great Man, from his bookshelf.
He flipped through it, settled on a page and read a sentence aloud: "A person with superb brain is the one with an extraordinary capacity of memory to store vividly in his memory bank more than others for a long time."
It's a sentence Mr. Malice could have easily written about himself.