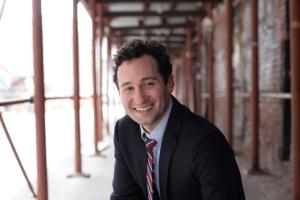 Joe Muto, a former producer on the O'Reilly Factor who wrote anonymous posts for Gawker about Fox News until he was nabbed and fired from the network, pled guilty yesterday in Manhattan Criminal Court to two misdemeanor charges–attempted unlawful duplication of computer related material and attempted criminal possession of computer-related material.
As part of his plea deal, Mr. Muto was fined $1,000, agreed to give his $5,000 Gawker fee to Reel Works, a  free filmmaking project for New York teens, and sentenced to 10 days and an additional 200 hours of community service.
Naturally, FoxNews.com wrote a fair and balanced account of the court case, which specified that the O'Reilly Factor is a "top-rated" program and that Mr. Muto, who was led into the courtroom in handcuffs, "said he wished he'd never betrayed his former employer." (What he actually said was that he wouldn't have done it had he known he would end up in a courtroom–no mention of betrayal there).
"We are very grateful to the Manhattan District Attorney's office for their dogged pursuit of this case and for obtaining justice in this matter," a Fox News spokesperson told Fox News.
Regrettable or not, Mr. Muto, did got a book deal out of it– An Atheist in the Foxhole will come out in early June.