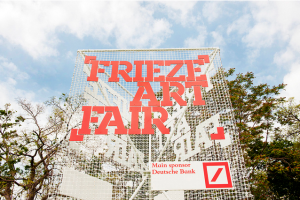 While it's safe to say that we'll be spending most of Frieze Week at its namesake fair out on Randall's Island, there are other fairs afoot. Here's a guide to finding them.
FRIEZE NEW YORK: MAY 10–13
Frieze New York is returning to Randall's Island with over 180 international exhibitors for its second edition. The big news here is that the mint green Wards Island Footbridge, which was inconveniently closed for construction last year, is now open, allowing (relatively) easy access to the island. If walking sounds wearisome (or wet given the weather forecast), there's the Frieze ferry service, which runs every 15 minutes during fair hours from the 35th Street Ferry Dock on the East River and takes about 20 minutes (the $12.50 roundtrip tickets must be booked in advance). Alternatively, the Frieze bus service will pick you up outside the Guggenheim Museum on Fifth Avenue between East 88th and 89th Streets, arriving approximately every 10 minutes during fair hours. The bus journey will take about 15 to 20 minutes according to the fair's website, and roundtrip tickets cost $5.50 (they are also only available in advance).
Hours: May 7–12, 11 a.m.–7 p.m., May 13, 11 a.m.-6 p.m. Admission: one day $42, students $26, one day + catalog $75.
NADA: MAY 10–12
The New Art Dealers Alliance (NADA) New York art fair has a new home in its second year: you can find its 70 exhibitors, a third of which are from New York, at Pier 36 at Basketball City located at 299 South Street on the East River.
Hours: May 10, 2 p.m.–8 p.m., May 11, 10 a.m.-8 p.m., May 12, 10 a.m.-5 p.m. Admission: free.
PULSE: MAY 9–12
This year's Pulse, located at the Metropolitan Pavilion (125 West 18th Street, New York) will feature 64 exhibitors between its two sections: Pulse and Impulse, the latter consisting of solo project booths presenting "emerging work created in the past two years." Pinging between Pulse and the East Side fairs is made easier by a free shuttle bus that will run between the Chelsea fair and the Frieze ferry stop from May 9 through May 11, 11 a.m.–8 p.m.
Hours: May 9, noon–8 p.m., May 10-11, 11 a.m.-8 p.m., May 12, 11 a.m.-7 p.m. Admission: multipass (4-day entry) $25, general $20, students/seniors $15, group discount $10. 
Cutlog: May 9-13
Cutlog, which has been running for four years in Paris during FIAC, is staging its first New York edition in the Clemente Soto Vélez Center at 107 Suffolk Street (between Rivington and Delancey Streets). The fair's debut will involve roughly 45 participants and "après cutlog" outdoor screenings and live performances from 7 p.m. until midnight, May 9–12.
Hours: May 9, 5 p.m.-9 p.m , May 10-12, 10 a.m.-8 p.m., May 13 10 a.m.-6 p.m.Admission: adults $15, students/sentiors $10, multipass (5-day entry) $25 / $20.