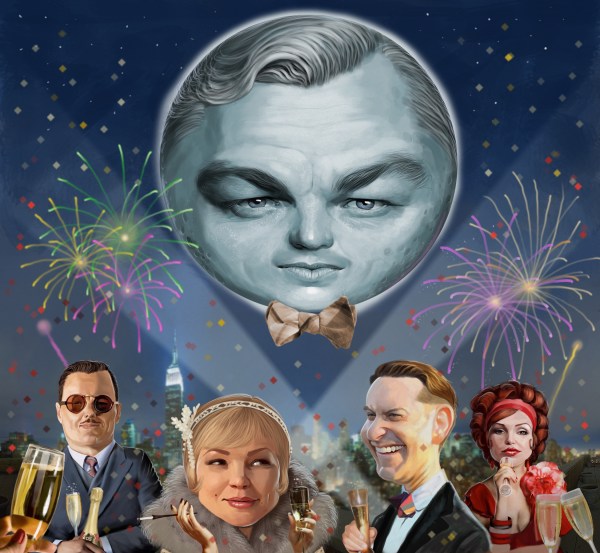 Early last Thursday morning, Leonardo DiCaprio was sitting in the basement of The Darby as a long line of girls came toward him carrying bursting bottles of champagne affixed with firecrackers. Jay-Z held court in a corner booth. Tobey Maguire danced on a banquette. And Mr. DiCaprio—Jay Gatsby—looked on with a smile. The pitch of the screams swung higher as fiery droplets of bubbly got closer to the movie star.
"Do you come to these parties often?" asked my companion, her lips at my ear.
Jay-Z was now bouncing to "Who Gon Stop Me," as Jake Gyllenhaal and Florence Welch rapped along, standing on a table, towering above Carey Mulligan, Tom Hardy, Jamie Foxx and other Hollywood royalty.
Perhaps I do go to a lot of parties, but I had not been invited to this one. In school at Duke, I became close with a man who had gone into film and went on to work on The Great Gatsby, Baz Luhrmann's new adaptation of the novel by F. Scott Fitzgerald. And just as Fitzgerald got a lot of leverage from his Princeton chums, my friend had smuggled me into The Darby, which came after the film's world premiere, earlier that night at Lincoln Center, and the official after-party, in the ballroom of the Plaza Hotel.
No, I don't often come to parties like this, I told my companion.
Corks popped from the flaming bottles, champagne spilled into glasses and the glasses overflowed. I approached Leo in his little nook.
"We spoke earlier, on the red carpet," Mr. DiCaprio said, his oceans of blue eyes twinkling at me.
"And there are more events to come," I responded.
And what a string of events it was: a spree of cocktail functions, high-fashion fetes at fancy boutiques, exclusive screenings in secret locations, a sprawling red-carpet premiere that attracted crowds for blocks, a boozy lunch at the New York Public Library, a boozy lunch at the Fitzgerald Suite at the Plaza Hotel, a boozy dinner at the ballroom in the Plaza Hotel, a breakfast at Tiffany, a champagne supper at Brooks Brothers, a star-studded bash at Prada, a Peggy Siegal screening at MoMA followed by a giant bash at the Boom Boom Room, and a Cinema Society screening at HBO headquarters followed by a giant bash at The Lambs Club.
The parties seemingly never ended, as Warner Bros.—thanks to an unimaginable promotional budget (though representatives would not disclose an exact figure) and countless corporate tie-ins—managed to recreate a run of blowouts similar to those that took place on West Egg.
It made sense that they had spun off the movie's party-heavy storyline into actual glamorous bashes. Mr. Luhrmann took 1920s New York City and made it his own, running the then-emerging skyline through his saturated filter and engineering a boisterous, three-dimensional, thoroughly vibrating version of our city (though the film was shot not on our streets but in Australia, the director's native land).
With that same approach—one not too different from Jay Gatsby's own Icarus-esque hubris—applied to the film's promotion, he's turned the actual metropolis into a Gatsby-themed pop-up, a traveling party that's the best possible billboard for the film, a series of super-fancy luxury events that eclipses any movie's promotional roll-out in recent history.
For two weeks, The Great Gatsby has overtaken NYC.
The first shindig was at Brooks Brothers, the store where two New Haven men in Fitzgerald's novella May Day go shopping for Welsh Margotson collars. Mannequins bestrode the sloped plaster centerpieces and seemed to be sashaying to the music, which at the moment played Lana Del Rey's "Young and Beautiful," the love theme from The Great Gatsby.