The Harlem Meer was teeming with wildlife on a windy morning last week. Barn swallows swooped about stealthily, hunting for insects. Red-winged blackbirds sang their pretty songs in the distance. A wood duck dabbled lazily in the middle of the lake. And on a nearby bank, a great egret waded into the water, which was slightly turbid from a recent downpour.
"That's a good omen," Ron P. Swegman told the Transom, pointing to the big white bird, which at that moment shot its long, sharp beak straight into the water, emerging with a small fish.
We had come to fish too.
In late April, signs were posted around the lake warning park-goers of the possible presence of an invasive and highly adaptable species called the northern snakehead, the kudzu of fish. The ominous signs asked fishermen not to release the creature if caught, and since then regulars have been on high alert, including Mr. Swegman, a writer and urban angler.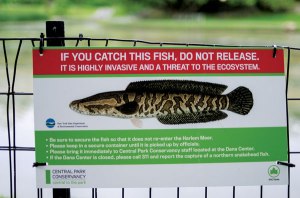 No one knows why, how or even if the snakehead was introduced to the Meer, which is situated in the northeast corner of Central Park. Despite its reputation as a predator, the snakehead is considered a delicacy in the Southeast Asian countries it comes from, and Mr. Swegman assumes that a pair was planted in the lake by some enterprising fishmonger.
Sightings have been reported, but a spokesperson for the Central Park Conservancy told the Transom that they very well could have been large carp, which resemble the invasive creature at this time of year. In early May, the city's Department of Environmental Protection conducted a fish count in the lake; about 1,000 fish were tallied—largemouth bass, black crappie, bluegill and yellow perch among them—but not a single snakehead was found.
Still, we weren't taking any chances, and neither was Mr. Swegman, who said that there have been enough sightings to believe that the snakehead—which already thrives in Meadow Lake, in Queens—is in fact surviving in the Meer.
And so we cast our lines. And felt a bite! But came up with only a handful of stringy weeds. Mr. Swegman, who had lent us our rod, helped disentangle the plant, known as hydrilla, from our hook. Although it too is highly invasive, Mr. Swegman likes to call this species an immigrant. The European starling, the house sparrow and the street pigeon are all technically invasive too, he noted.
Did he feel that way about the snakehead, we asked?
"I'm a misanthrope," Mr. Swegman told the Transom. "Humans, mosquitoes and cockroaches are the only things on our planet that I really despise. So I don't resent the snakehead for existing. I resent that people aren't exposed to nature and the outdoors and to the issues of conservation."
If the snakehead were to proliferate, it would most likely decimate the Meer's fish population.
Mr. Swegman gets defensive when discussing the Meer, about which he wrote an essay called "Bright Fish, Big Cities," a paean to the lake's natural splendor. He often stopped to pluck pieces of trash from the ground as we made our way around its perimeter in search of the best fishing spot.
Even though we were hunting for snakehead, Mr. Swegman managed to reel in two bluegills, an impressive feat considering the murky water. They were each about six inches in length, prime prey for the snakehead.
"You'll notice a distinct shift in my mood," Mr. Swegman said cheerily when he caught his first fish. He wasn't completely satisfied, however, until the Transom hooked one of our own.
As it turned out, neither of us caught any snakehead that day. But on our last cast, the Transom reeled in a beauty: a 10-inch largemouth bass!
"That's exactly the kind of fish the snakehead would replace if it became pervasive," Mr. Swegman said, unhooking the bass. Though he ended on an upbeat note: "The fact that we didn't catch one today is good news."