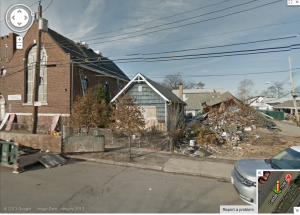 The aftermath of Hurricane Sandy is ready for its close-up.
Google has updated Street View to show the damage done to the streets in Staten Island, Manhattan, Brooklyn and Queens.
"Our hope was to capture accurate, updated imagery that would help people around the world better understand the extent of the damage and the importance of coming together as a community to aid in the recovery efforts," William Floyd, Google's public affairs manager for New York, told the Advance.
When the Google cars were initially spotted in January, residents were angered over the fact that the company was taking pictures of their ruined communities.
The New York Post interviewed residents who expressed their fury over the photos. Mark McIntyre, 49, whose first floor was flooded, told the Post, "If that's the way it's going to be in the computer for years, showing the depreciation of a neighborhood, that's not right."
Now, residents feel that the update is helpful in showing people outside of New York the extent of the damage. The pictures reveal how much water and wind damage occurred and what the communities are doing in their effort to rebuild.
Google told the Advance that it will drive around the damaged area again in the future to update its photos and chronicle the recovery efforts, but it does not have a time line for when this will take place.
The company has also partnered with historypin.com to archive the images it has taken—a record of the area before, during and in the aftermath of the storm.