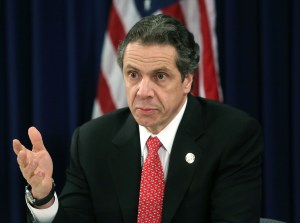 Gov. Andrew Cuomo said Monday that voters don't blame him for the scandals sweeping Albany, joking that nobody could have expected him to ban sex.
Speaking during an appearance on WCNY's "Capitol Pressroom" earlier today, Mr. Cuomo was asked about a new poll that shows that, despite the recent scandals–including Assemblyman Vito Lopez's resignation following sexual harassment allegations–his numbers have ticked slightly up.
Mr. Cuomo explained that voters see "the government's working better" despite the "corruption and scandal and politicians doing bad things."
Host Susan Arbetter asked why he shouldn't shoulder some of the blame.
"No, because look, well why should … Is the governor to blame for Vito Lopez's sexual [harassment]? No," he said, dismissing the premise. "When a congressman is doing sexual bad behavior, do we blame the president for a congressman's sexual exploits? Ah, no."
Instead, he said that voters are "very good at making those kinds of separations."
"Is the governor responsible when an assemblyman is bribed or when a legislator violates an escrow account or sexually harasses a staff … No, of course not. It's silly," he said. "We may postulate that theory well, the governor's supposed to clean up everything, meaning, no sex," he said, joking.
"That would not be popular," noted Ms. Arbetter.
"That's right," Cuomo said with a laugh.
Mr. Cuomo explained he thinks that voters see that he's doing everything he can to try to pass reforms to cut down on corruption.
"We don't hold him responsible for the bad acts. But we believe he's doing everything he can," he said. "Which is true. I am doing everything that I can do. I'm glad they see it that way."
And Mr. Cuomo threatened once again that, if his ethic reform plan fails to make it through by the end of the legislative session, he'll call for the special investigative panel called a Moreland Commission.
"At the end of the day, one way or the other, there will be a reform in place," he said.
Still, Mr. Cuomo refused to call for action again Assembly Speaker Shelly Silver and said that what is happening in Albany is reflective of society as a whole.
"Will you ever stop people from doing venial, stupid criminal, illegal acts?"he asked. "Not in government, not in politics, not in the militarily," he said. "This is prevalent through society."