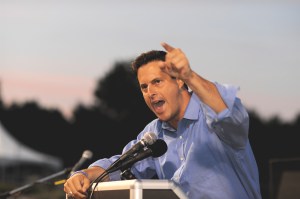 GOP State Senator Greg Ball, an outspoken Hudson Valley legislator who repeatedly knocked then-Rep. Nan Hayworth last year–even threatening to run a primary campaign against her–is taking his hat out of the ring. In a statement released late this morning, Mr. Ball said he was focused on his work in Albany and had no overriding desire to defeat the Democrat who ultimately beat Ms. Hayworth, Sean Patrick Maloney.
"I want to make it clear that I am focused on finishing this legislative session and delivering for my current district and not running for Congress," he said. "As for my re-election in the current State Senate seat, I will make a final decision on that as the time nears."
However, showing his rebellious size, Mr. Ball did manage to heap some praise on the Democratic incumbent, whom he said should be "applauded."
"Indeed, while I disagree with the current Congressman on most issues, we have a great working relationship and he and his office are to be applauded, for they have bent over backwards to mutually assist shared constituents," Mr. Ball sated.
For her part, Ms. Hayworth has formed a new campaign account for a rematch with Mr. Maloney as Democrats prepare to defend their congressional victories in last year's elections.