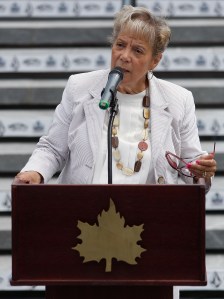 Queens Borough President Helen Marshall holds one of the most prominent elected offices in Queens. But the 83-year-old lawmaker was apparently unaware until yesterday that John Liu was running for mayor.
During the Queens Democratic Party's endorsement event Monday, a reporter for a Chinese-language newspaper asked Ms. Marshall if she was disappointed the county hadn't backed Mr. Liu, who lives in the borough and used to represent it on the City Council. (They backed City Council Speaker Christine Quinn instead.)
According to a source who witnessed the conversation, an article in The China Press and an interview with the reporter who interviewed the borough president, Ms. Marshall appeared confused by the question.
Well, he's facing opposition in his re-election campaign for comptroller, Ms. Marshall reportedly answered. City Councilwoman Karen Koslowitz, who was standing near Ms. Marshall, leaned over to explain to her that Mr. Liu is actually running for mayor–prompting surprise.
Oh, I like him, I don't know why we didn't endorse him, then, Ms. Marshall reportedly replied.
Asked about the exchange on Tuesday, Dan Andrews, Ms. Marshall's spokesman, said the borough president was well aware of Mr. Liu's candidacy and didn't recall the conversation.
"She may have misspoken, thinking he is currently the comptroller," Mr. Andrews said. "I think that's all it is."
Ms. Marshall, who was elected in 2001 after serving in the City Council and the New York State Assembly, has just one year left in her final term. But some observers have raised questions about her muted activity. Colleagues described Ms. Marshall as increasingly absent-minded, sometimes repeating herself and forgetting things.
"It's been getting worse over time," observed one Queens Democratic source, who said this fall's election can't come soon enough. "I think she's winding down a long political career and is less engaged in the job than she used to be," said another.
Others were less forgiving. "Nothing against Helen personally, but for several years she's been a couple miles past out to lunch," a Queens insider quipped. "On a good day."
The Daily News reported in April that Ms. Marshall, who gets paid $160,000 a year, has been increasing absent from her office and took off more than 40 days in 2012. She was reportedly off duty for much of the summer, in addition to numerous Mondays and Fridays throughout the year. According to the New York Post, she spends much of her time in the Hamptons and caring for her ailing husband.
Mr. Andrews dismissed the concerns as well as Ms. Marshall's absences.
"I would say that she's [nearly] 84 years old," he said, noting that she only has another seven months left until her final term is up. "It's another seven months and she's doing the job …. I think what has to be done, she does."