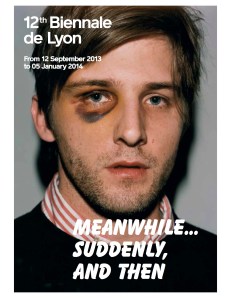 For the past few months, the Lyon Biennale has been releasing the names of artists that will have work in its 12th edition, which runs Sept. 12, 2013, through Jan. 5, 2014. Now the full list is out, and it is a handsome one, ranging from established stars like Jeff Koons, Tom Sachs and Yoko Ono to exciting younger artists like Trisha Baga, Helen Marten and Anicka Yi. Some 80 percent of the works are being specially made for the biennale, according to organizers. Other items of note: there will be a Performance Weekend Oct. 19–20, a Video Weekend Nov. 30–Dec. 1 and a Robotics Weekend ("It will be a discussion between artists, researchers and… robots," says a news release). Roe Ethridge shot promotional photos of attractive young people (see the image at left) and a pig. (Note: the asterisks in the list denote artists who have been commissioned to make new work.)
The full list follows below.
Jonathas de Andrade *
Ed Atkins *
Trisha Baga *
Matthew Barney
Neïl Beloufa *
Gerry Bibby *
Juliette Bonneviot *
Dineo Seshee Bopape *
The Bruce High Quality Foundation *
Antoine Catala *
Xavier Cha *
Paul Chan
Ian Cheng *
Dan Colen *
Petra Cortright
Jason Dodge
Aleksandra Domanovi *
David Douard *
Mette Edvardsen *
Erró
Roe Ethridge
Edward Fornieles *
Gabríela Friðriksdóttir
Robert Gober
Karl Haendel *
Rana Hamadeh *
Louise Hervé & Chloé Maillet *
Fabrice Hyber *
Glenn Kaino *
John Kelsey *
Jeff Koons
Donna Kukama *
Margaret Lee & Michele Abeles *
Patricia Lennox-Boyd *
Laida Lertxundi *
Aalliicceelleessccaannnnee&Ssoonniiaadde
errzzyyppoollsskkii *
Ann Lislegaard *
Nate Lowman *
MadeIn Company *
Václav Magid *
Helen Marten
Thiago Martins De Melo *
Bjarne Melgaard
Takao Minami
Meloko Mokgosi *
Paulo Nazareth
Paulo Nimer Pjota *
Yoko Ono
Aude Pariset *
Laure Prouvost
Lili Reynaud Dewar *
James Richards *
Tabor Robak
Alain Robbe-Grillet
Matthew Ronay *
Tom Sachs *
Georgia Sagri *
Hiraki Sawa
Mary Sibande *
Alexandre Singh
Sumakshi Singh *
Gustavo Speridião
Tavares Strachan *
Nobuaki Takekawa
Ryan Trecartin & Lizzie Fitch
Peter Wächtler *
Hannah Weinberger *
Ming Wong
Helga Wretman *
Yang Fudong *
Yang Zhengzhong
Anicka Yi
Zhang Ding
Update, 6:30 p.m.: It seems that the initial news release we received with the artist list accidentally omitted two artists. They have now been added.
Update, May 24: Added one more artist who was omitted from the initial list we received.
Update, June 10: The biennale just release a list with a few new names. We have reproduced it in full above.