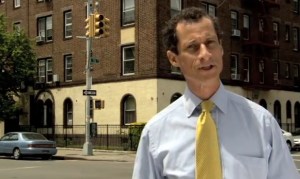 He's in. After weeks of speculation, disgraced ex-Rep. Anthony Weiner has officially thrown his hat into the mayor's race, announcing he's running with a new video posted on his revamped campaign website at midnight on Wednesday.
"Look, I made some big mistakes. And I know I let a lot of people down. But I've also learned some tough lessons," he says in the video, which opens with a family scene of the former councilman and his wife, Huma Abedin, having breakfast in their kitchen with their young son.
"I'm running for mayor 'cause I've been fighting for the middle class and those struggling to make it my entire life. And I hope I get a second chance to work for you,"  he says into the camera in the 2-minute, slickly-shot reel.
The video goes on to show iconic scenes of the city and images of Mr. Weiner growing up in Brooklyn, and goes on to outline a platform that includes dropping fines for small businesses and more opportunities for the middle class.
He also gets an endorsement from his wife, Ms. Abedin, who revealed she was pregnant after the scandal broke. "We love this city and no one'll work harder to make it better than Anthony," she says, sitting next to her husband on the steps of his childhood home.
[youtube http://www.youtube.com/watch?v=x92OWufIWcU&w=560&h=315]
The announcement comes nearly two years to the day after Mr. Weiner destroyed his Congressional career by tweeting out a photo of his underwear-clad crotch that had been intended as a private message–and then repeatedly lying about it in interviews and at press conferences, claiming his account had been hacked. He eventually admitted to having inappropriate relationships with half a dozen women online, sending them lewd text messages and images.
At the time, the idea a comeback seemed incomprehensible.
But Mr. Weiner has been plotting one for months, beginning with a glossy New York Times profile, followed by a round of television interviews and a return to Twitter–where he has been touting proposals from a largely-recycled book of policy proposals.
Now, Mr. Weiner's entree has the power to turn the race on its head. While the scandal might give many voters pause, it also cemented Mr. Weiner's name recognition. And with more than $4 million in his campaign account, he'll be able to pack a punch.
Observers have been mixed about how Mr. Weiner will impact the field, but Public Advocate Bill de Blasio appears to have the most to lose. A long-time Brooklyn resident and fellow former councilman, Mr. Weiner is expected to appeal to the same outer-borough, ethnic whites and progressive voters who feel Council Speaker Christine Quinn, the race's early front-runner, has been too close to the current mayor.
A recent poll showed Mr. Weiner would enter the race in second place, behind only Ms. Quinn.
Update (2:13 a.m.):
It appears Mr. Weiner's campaign may have pulled the trigger earlier than intended. Shortly after the campaign's new "Weiner for Mayor" website went live, it reverted back to an older version of the site that had been up since Mr. Weiner's resignation. Then, just after 2 a.m., the mayoral version was restored.
Mr. Weiner did not respond to requests for comment on whether there had indeed been a mix-up, but sources told The Post the video wasn't supposed to be posted until later Wednesday.  The video remained available via YouTube.