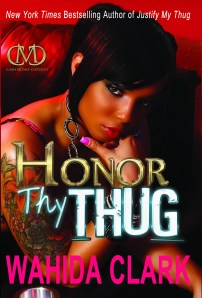 "I married a thug," said the street lit author Wahida Clark, addressing the issue as if she were listing the bullet points of accomplishments in her life. "I said, 'Wow, he's locked up! I want to meet this brother.' Then it ended up being forever." Ms. Clark is high up in a boardroom at The Agency Group's offices on West 57th street. Framed multiplatinum plaques for bands like Creed and Nickelback litter the walls. John Wu, the agency's IT guy, has a Wu-Tang poster on his door that reads 'Enter the Wu,' and bright-eyed 20-somethings peer coldly into monitors—it's a world away from the backdrop of drugs and betrayal and sex and justice that Ms. Clark depicts in her novels.
Honor Thy Thug is the sixth title in Ms. Clark's "thug" series. In the book, released on April 23, Trae and Tasha Macklin are back as urban street lit's first couple. Trae's made a dangerous decision to do business with a seedy Chinese mob family, and the connection threatens to shake the core of Trae and Tasha's relationship.
"A lot of women don't want the straitlaced, clean-cut good guy," Ms. Clark said. "They seem to want a bad boy."
If authors of the genre have the distinction of being real-life players in the world they describe, Ms. Clark—thrice a New York Times best-selling author—has more than lived up to her title as the queen of street lit. She was so enamored with Al Dickens, author of the underground classic Uncle Yah Yah 21st Century Man of Wisdom, that she eventually married him after meeting him at Rahway State Prison (now East Jersey State Prison).
But Ms. Clark actually went one step better. Or worse. She switched places with her husband. She was released from prison in 2007 after serving nine and a half years for mail fraud, wire fraud and money laundering. She'd been the ringleader of an illegal scheme that solicited thousands of dollars from consumers to put into a pot and then paid out to different "winners" at different times. She wrote her fiction longhand on yellow legal pads, the pages of which circulated through the jail compound at Federal Prison Camp in Alderson, W.Va., with prisoners reading one page at a time then passing it on. It was there that Ms. Clark served time with a wealthy mogul named Martha Stewart, who served as an inspiration and an occasional business adviser. "She did her little five months like a trouper and was always willing to help you out if she could," Ms. Clark told the Urban Book Source in 2007.
While Ms. Clark was incarcerated, she sent her first manuscript, Thugs and the Women Who Love Them, to Carl Weber of Black Print Publishing in Brooklyn. Weeks later, she received a letter saying that her manuscript was accepted.
The genre, with its allegiance to all-or-nothing street politics and a firebrand code of ethics, was initially fostered by a cadre of authors like Ms. Clark who had actually lived the lives they narrated on the page.
Now that street lit seems poised to jump from the ghetto into the mainstream, it's an open question whether that authenticity can survive. A major record label has snapped up several of the most popular authors, including Ms. Clark. Reality stars are co-authoring books.
Suddenly, a genre that built its cachet in the hearts and minds of voracious readers is wondering if it's losing its soul.
And then there are academics like the writer Nick Chiles, who struggle with the notion that street lit is recognized as belonging to the proud, up-you-mighty-race tradition of the African-American literary canon. "Is street fiction some passing fad, or does it represent our future?" Mr. Chiles asked in The New York Times in 2006. "It's depressing," he continued, "that this noble profession, one that I aspired to as a child from the moment I first cracked open James Baldwin and Gabriel García Márquez about 30 years ago, has been reduced by the greed of the publishing industry and the ways of the American marketplace to a tasteless collection of pornography."
Ms. Clark believes Mr. Chiles and others are entitled to their opinion, but her devotion to narrative device and character development and her loyalty to her readers is non-negotiable.
"My male and female characters are very strong," Ms. Clark said. "The males and the females are college-educated, but they just went down the wrong path and ended up a thug. But they love hard. They're providers. They're sexy. They're fine. The women like that. They identify with that. And if they don't have a brother like the brothers in my books, they say, 'I want one just like it.' And the brothers, too."
Ms. Clark, who stands about 5-foot-5, with expressive features that betray any leftover desire to mask her delight, boredom or opinion of the absurd, tells a story about one of her encounters with Tony F. Mack, the embattled mayor of Trenton, N.J.
"He was coming through at this festival when I did a book signing," she said, her eyes lighting up. "So one of his bodyguards, when they walked past my table, he stopped. And he said to the mayor, 'Man, when I read her books, it be on between me and my wife!' And I'm, like, oh my God, I know he just didn't say that to the mayor!"
Keenan Norris, a doctoral candidate at the University of California, Riverside says that the tropes and rhetorical signposts of hip-hop were born out of the street lit of the 1960s and '70s, especially Robert "Iceberg Slim" Beck's groundbreaking novel Pimp.
"The art forms are elementally joined," said Mr. Norris, whose novel Brother and the Dancer is the 2012 James D. Houston Award winner.
In fact, Mr. Norris originally wished to give Street Lit: Popularity, Controversy & Analysis, an anthology he is editing, the title "The Takeover," a reference to a 2001 Jay-Z song. The would-be title didn't survive, but it underlined the central question that authors, publishers and black intellectuals can't seem to agree on: has street lit taken over the $300 million black literature market?
Ms. Clark is signed to Cash Money Content, an imprint of Simon & Schuster. It's run by the record label Cash Money, home to rappers Drake and Lil Wayne. Cash Money was co-founded by Bryan "Birdman" Williams. "I think we should read more as a people," Mr. Williams writes on Cash Money Content's site. "And me, personally, I feel like I should read more. We have so much influence on the music world, I just wanted to convert it to books. Just to get us to read more."
There is a lot of reading going on, as well as a lot of arguing. Mr. Norris says there are two competing viewpoints. "Black writers who have written on this topic, like Terri McMillan, Bernice McFadden, Nick Chiles and others, will tell you that it definitely has [taken over the black literature market.] On the other hand, if you talk to agents, many express some reservation about street lit's staying power, that it's just a fad, a passing trend."
Over the years, several books have become legacy titles. The Agency Group's Marc Gerald, the agent for Cash Money Content, says that Pimp has sold more than five million copies since its release in 1969. Mr. Beck's work is widely regarded as the blueprint of the genre.
And a profitable genre it remains more than 40 years later. Teri Woods has written 20 novels and sold more than two million books worldwide. Sister Souljah's The Coldest Winter Ever (1999) has sold over a million copies worldwide. Ms. Clark herself has sold more than 450,000 books, according to the numbers she publishes on her website.
As street lit rides this wave of popularity into the digital age, quasi-celebrities like former New York hip-hop insider-turned-reality star Stevie J, NeNe Leakes and Phaedra Parks are getting deals to put their names on books. And business is good. But publishing industry insiders and authors alike are frustrated with these deals that help keep the industry afloat.
"Get your money, ma, do it however you need to do it, but don't say you're a writer, 'cause you're not," said the street lit author K'wan Foye. "We're the ones up at night until the sun comes up. We're writing and putting it all out there."
At the agency, other than Mr. Wu, Mr. Foye was the only picture of hip-hop: baggy jeans, baggy sweater and a leather jacket. Mr. Foye, the son of a painter and a poet whose lives were wrecked by the drug epidemic in Harlem in the '80s, says that his novels Gangsta and Road Dawgz are legacy titles born out of his personal experience. "I wasn't even doing it for money," said Mr. Foye, who parked his Mercedes E320 and joined The Observer at the long table inside the agency's boardroom in Harlem. "I just bled on the pages."
His mother was an aspiring author who died of cancer before she realized her dream.
"She never got a chance to do it. That's why it's an all-or-nothing proposition. If you're playing with it, don't sit next to me, don't talk to me. We don't have anything in common."
Ms. Clark doesn't believe her gift was all that special. She simply wanted it.
"It comes out in the writing," Ms. Clark offered when asked about whether the street lit genre is here to stay. "I hear a lot of writers, and people say, 'Well, you have to know about [street life to write about it].' That's not necessarily true. If you can imagine it, you can write it. The finished product tells it all."
Ms. Clark still handwrites her novels, and she holes up in a hotel room when on deadline. "Anybody can do it," she said.
editorial@observer.com