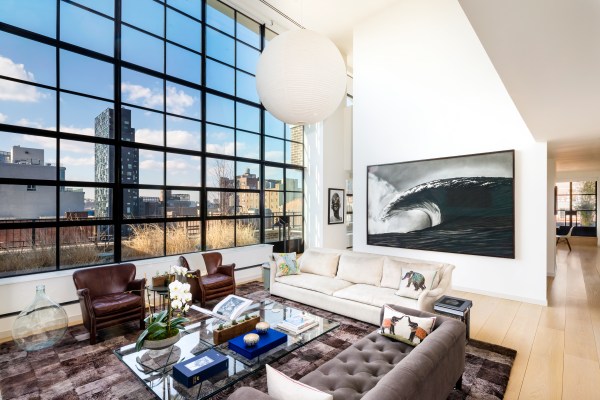 It's Springtime in New York again—that short slice of heaven squeezed between the long cold winter and the long hot summer—and the real estate market appears to be sprouting green shoots in celebration.  For real this time. The kind of growth that the professionals seem to think can really last. That's certainly the take that Diane Ramirez, president and co-founder of Halstead Property, shared in a recent interview. And she has some solid evidence to back that up, unmistakable trends she has spotted that indicate a kind of vigor in the market that is sustainable. The market, she posits, has become unfrozen, people are feeling less stuck, and rather than sitting tight with what they've got, they're upsizing, downsizing, and just generally moving on with their lives. "That," she insightfully says, "is what real estate is all about."
And it is just that movement, that loosening up, that could point to a way out of the Manhattan market's biggest quandary, the shortage of inventory. Sure, there are some developments in the pipeline, but people moving in and out create a more dynamic market. In the meantime, Halstead, the inventor of the storefront real estate office in Manhattan, continues to grow its own green shoots, with new offices sprouting up in Washington Heights and another planned for Southampton.
We chatted with Ms. Ramirez, a 35-year veteran of the business and grandmother of five who has herself dabbled in development, about the state of the market, and why she is feeling bullish this spring.
Q: What's your take on Manhattan's real estate market now? Everyone seems to feel that it is really heating up.
A: The market cannot get any hotter than it has been. The last six months, everyone you speak to is breathless, the agents, the managers. The market is very hot.
Q: Has it flipped from being a buyers' market back to the sellers?
A: It is a sellers' market, but you still must be properly priced. The sky is not the limit. We are starting to push the market for sellers more, but if you go out of the realm of reality, you lose your entrée into the market. And then people remember your property as being over-priced.
But if you are well-priced, at most price points, mostly two bedrooms and up, you are going to get multiple bids.
Q:  If buyers are getting priced out of Manhattan, where can they go? Brooklyn?
A:  Brooklyn is very hot. In some instances they are seeing Manhattan-like prices.
We just opened an office in Washington Heights. In Washington Heights and Hudson Heights, prices are very attractive, and it's beautiful up there. Water views, pre-war buildings.
We picked up Stein-Perry, a very well-respected firm in Washington Heights. Gus Perry, who heads up that firm, knows the area very well. We love growing with someone who is well known in the community. We're interested in the Upper West Side, all the way up to the Bronx. And we remain committed to Harlem as well.
Q: Do you have any other expansion plans?
A: We have also expanded in the Hamptons. We are in East Hampton and we will open in Southampton.  Our group is very strategic.
Q: What is your advice to buyers right now? 
A:  If you are looking to buy, get in there, and if you see something you like, don't hesitate. The market is truly back. We are not seeing huge spikes, but it is starting to rise. Go for it aggressively. If you lose one, it will likely be more expensive next time around. The trend is that prices are steadily rising. I think that's going to continue for a couple of years. Don't try to time the market. Any area that touches Manhattan and is well served by transportation is bound to rise.
Q: What is your personal approach to real estate?  Where do you live, for instance?
A:  I live on the Upper East Side now. I've been back here for five years. I love change and love to try new neighborhoods. It's nice to live in the 60s. My husband and I and the children are all settled nearby. We take in everything the city has to offer. Lincoln Center, Carnegie Hall. Culturally, it can't be beat. I find New York very healthy. It's so diverse.
Before this, I was downtown. We tried FiDi. And before that I tried Tribeca. I hadn't experienced living in a loft, so I wanted to try that. We bought the top floor and the air rights, and then my son and I did a joint venture where we built two apartments. Then we bought a garage on Greenwich and Hubert and put plans together for a seven-story building. We did not end up building it, but we sold the plans. They built it exactly to our specifications. My son bought  a fabulous townhouse in the 30s. And my daughter is not too far away in Connecticut. We've got five wonderful grandchildren altogether.
Q: Real estate professionals talk about how little inventory there is in the city. Is there anything in the pipeline that is going to change that?
A:  There is nothing that is going to open the floodgates, but new development is starting to come online.
But more significantly, people are really getting on with their lives, and that is where the break in the inventory is going to happen. People have been holding tight for a while, and staying put. Now they are moving on with their lives, and that is what real estate is all about. People going from having two to three bedrooms, having another child, or downsizing after the kids leave. Getting stuck is not healthy. It's refreshing what's going on now. We are seeing more movement in the resale market and we are returning to a much more normal ebb and flow.
We will still have tight inventory. Inventory is going to be a problem, but it's going to get a little better. This is where I differ from some of my colleagues.
Q: Who is buying these days? 
A:  Everyone is thinking real estate again. First-time buyers, young people coming to the city. People whose children have left home are moving into the city, and families still want to be here. Foreigners still know that New York City is a great place to be.
It is unlike Connecticut and New Jersey, where we also have offices. There you tend to see one kind of buyer. Here it is much more diverse.
Another thing that we are seeing is that people are starting to look again for fixer-uppers, whereas before everyone wanted only finished apartments that needed no work. The fact that people are looking for fixer-uppers, where they can make their own dream home, is another sign of optimism and a healthy market.
jallon@observer.com