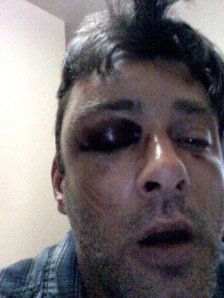 We agree with Mayor Bloomberg: It is not a good day for New York. Only several hours after thousands of people gathered in the West Village to protest the murder of Mark Carson in what police are calling a hate crime, four individuals were beaten badly after being taunted with homosexual slurs.

The report of the first attack appeared on NightLifeGay.com:
Dan Contarino, former promoter of Shampoo Nightclub's "Shaft" Fridays, was jumped last night at Avenue D & 4th Street. Allegedly, witnesses are reporting the assailant was yelling "f*ggot" as he was kicking and beating Dan. Neighbors rushed to Dan's aid and chased after the attacker but unfortunately he got away. The police are investigating the assault now and have not determine it a hate crime.
Mr. Contarino posted images of his bloodied face on Facebook and Twitter, where he he wrote:
THANKS FOR CALLS…. GAY BASHED LAST NITE…. back from small surgery…. CHEST XRAYS THIS AM…. suspect still at large… police n media waiting to interview me… U JUST WANNA CRY N MOVE ON….
Meanwhile, a gay couple was attacked in SoHo last night, when two men approached them yelling anti-gay slur, starting a physical altercation. One of the men attacked suffered an eye injury, according to police reports. Two suspects, Fabian Ortiz, 32, and Pedro Jiminez, 23, were arrested in conjunction to this incident and are being charged with third degree assault as a hate crime.
And last night in the East Village, another alleged suspect, 39-year-old Roman Gronel attacked a 45-year-old companion with whom he had just met up with, screaming gay obscenities at him during the beating. Commissioner Ray Kelly told attendees at today's press conference that the suspect lived at the Bowery Mission for the last month and has an extensive criminal background.