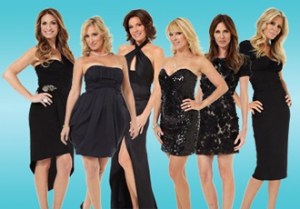 Good ladies of RHONY, we knew thee well. According to several outlets, the stars of Bravo's The Real Housewives of New York City have refused to ink contracts on the sixth season of the stalwart show, with all six main cast members holding out for a better deal.

According to The Hollywood Reporter, the issue is, as always, money problems:
Production on the sixth season was set to begin on Wednesday, but none of the six women made herself available for filming. A Bravo representative declined to comment.

The cast members all negotiate separate deals and are paid different amounts, depending on how long they have been with the show. However, each cast member is said to have expressed displeasure with Bravo's financial offer. Negotiations are said to have begun about three weeks ago but little progress has been made. "We're still pretty far apart," the source says.
The issue with raising the salaries of these ostensibly already wealthy (though that grand illusion has been shattered time and time again) women, is, as Page Six tells it, that Bravo would have no qualms about canceling the show all together than belabor a negotation that has already stalled production.
And we know that the network can be heartless when it comes to slicing up the cast–as it showed when it fired three members before last season–though dooming the entire program to cancelation would still seem like a pretty desperate measure, especially since the cast already receives such disperate salaries. (An average member earns $65k per season, though Ramona Singer has been rumored to make $500,000 and has been holding out for a million.)
Which leaves us wondering: What has Bravo been doing with these contract problems since the last season, giving all the money to the guys at Million Dollar Listing: New York?