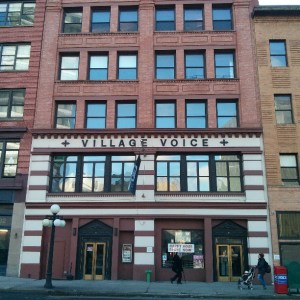 What a week!
First, "restructuring" at the New York Daily News resulted in a flurry of long-anticipated pink slips.
"It is a process that has been difficult and painful," News editor in chief Colin Myler and publisher Bill Holiber wrote in a staff memo that was first obtained by Capital NY. "But it is an inevitable consequence of the challenges we continue to face."
The difficult and painful process spanned two days and culminated in at least 20 reporters losing their jobs. Big names were let go, including columnists Albor Ruiz and Joanna Molloy, and Pageview books blog editor Alexander Nazaryan.
The borough bureaus were hit hardest, with Brooklyn borough chief JoAnne Wasserman, Bronx borough chief Patrice O'Shaughnessy and Queens borough chief Paul Shin reportedly among those laid off.
Mr. Myler announced that the paper would create Daily News Local, a new website led by former Brooklyn Paper editor in chief and New York Times hyperlocal vet Gersh Kuntzman and Zach Haberman, a Patch.com alum (and son of Times metro desk columnist Clyde).
The rejiggered borough coverage, Mr. Myler wrote in the newsroom memo, "will also offer our many local advertisers with an improved opportunity to grow our commercial partnerships."
Although last week marked the most significant bloodletting at the paper since Mr. Myler took over back in November 2011, there had been a slow trickle of departures over the past months.
Features editor John Oswald left in March, replaced by Raakhee Mirchandani, and features reporter Jacob Osterhout vented his rage in a goodbye email after he was let go earlier this spring.
Meanwhile, the features desk increasingly resembles that of the Post. Ms. Mirchandani, herself a former Postie, is joined by several former Murdoch employees. Features writer Sheila McClear and TV editor Don Kaplan came aboard this spring, as did the team behind the new gossip page, rebranded as Confident@l last summer: Lachlan Cartwright, who recently returned to New York, Marianne Garvey and Brian Niemietz.
The Post had a bumpy week as well. Even after the defections to the News, the rival tabloid had to announce a plan to encourage select journalists to take buyouts.
Post editor in chief Col Allan said that the aim was to cut 10 percent of newsroom staff through "voluntary buyouts." And just as The New York Times announced when it trimmed its newsroom through buyouts earlier this year, the threat of layoffs becomes a real possibility if a buyout target isn't met.
Then, as the tabloids were trying to reduce their payroll, Columbia Journalism Review lost its editor in chief, Cyndi Stivers, to AOL.com, right before it handed out some pink slips of its own to top editors, prompting rumors that the entire operation was on shaky ground.
Longtime executive editor Mike Hoyt and editor-at-large Justin Peters were told that their time at the journalism watchdog organization will come to an end in June.
And even the well-oiled Bloomberg machine ground its gears. On Friday, a story broke in the Post that Bloomberg journalists were under fire for using the media organization's terminals to "spy" on their sources. Although Bloomberg journalists contend that the story was blown out of proportion (there is only so much information they can actually access), the alarm, which was raised by Goldman Sachs, prompted Bloomberg editor in chief Matthew Winkler to apologize for the practice in an editorial on Sunday night.
The week's dubious good news was that there are still editors who will take the fall for their staff. On Thursday, The New York Times reported that The Village Voice's editor in chief Will Bourne and deputy editor Jessica Lustig decided to leave the beleaguered downtown paper rather than lay off any more of their staff.
Voice Media Group executive editor Christine Brennan had told Mr. Bourne and Ms. Lustig that they would have to eliminate or drastically reduce five of the 20 newsroom positions.
"We are both leaving because I was summoned to a meeting and asked to get rid of five people and we are on a short string already," Mr. Bourne told the Times. "When I was brought in here, I was explicitly told that the bloodletting had come to an end."
The week ended on a low note for the Obama administration when the Associated Press announced on Monday that the Department of Justice had obtained two months of the news collective's phone records without a subpoena.
Or maybe it was a high note: at least the media world could band together in collective outrage.