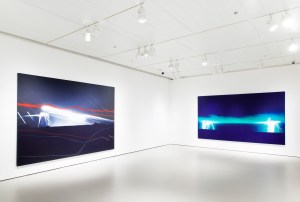 If you're turned off by the bombast of infinitely escalating auction prices and big-tent contemporary fairs, take refuge in the elegant first American retrospective of Jack Goldstein. Organized by Orange County Museum of Art guest curator Philipp Kaiser, and in New York by Jewish Museum Assistant curator Joanna Montoya, the show is the gloomy B-side to the relentless pop staccato of blockbuster contemporary art. Yet artists today owe much to this cult figure.
"I can't stand to look at anything that my hand does," Goldstein once griped. For his 1975 MFA graduation show as part of the first class at Cal Arts, he buried himself alive. His work would follow this trajectory towards total disappearance. Appropriation wasn't just a slick move with him, as it is for Richard Prince. Goldstein was the lonely poet of appropriation art. To make a movie, he isolated the lion from Metro-Goldwyn-Mayer film promo and projected it on a wall, where it roars endlessly. His records are stock film sound pressed to red and white vinyl: "The Lost Ocean Liner," "The Burning Forest," "Three Felled Trees," read some sad titles in the series Suite of 9 Records with Sound Effects, 1976.
Born in Montreal and raised in Los Angeles, Goldstein in 1977 was part of the watershed "Pictures" show at Artist's Space. He became famous within the art world in his lifetime, and was always ambitious, but his greatest legacy is conveying the sense of isolation inherent in appropriation. The title of the show cites Goldstein's quip to the effect that there must be 10,000 Jack Goldsteins in the phone book.
In the 1980s he made paintings: sleek, monumental, boxy things with appropriated pictures of air raid scenes from World War II, or of lightning storms and nature photographs. The images were airbrushed on by studio assistants, and they gleam with the smooth finish of car paint. These paintings are spectacular objects, some of the prettiest of the "Pictures"-generation work. They are as cinematic as yet-to-be Katy Perry video mood boards, yet they remain stark and mute.
Goldstein spent the last years of his life in Los Angeles writing aphorisms on a desktop computer and reading philosophy backwards "in order to break the narratives and mimic the lack of continuity that existed in my own life," as he inimitably put it. Obviously he was depressed, and he was also using drugs; in 2003 he took his own life. The Jewish Museum exhibition is haunting, and its ghostly sense of absence and disappearance is made stronger by our awareness of the artist's suicide. But he influenced the artists who would become today's stars—Cindy Sherman and Jeff Koons among them—as well as lesser-known talents like Michael Majerus. In their work, and through his own, he lives on. (Through Sept. 29, 2013)