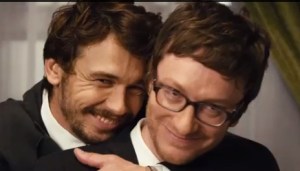 As part of YouTube's "Comedy Week," Zach Galifianakis held a very special edition of his Funny or Die web series Between Two Ferns which starts out like a regular James Franco interview but then gets weird real quick. Lonely Island and Edward Norton co-star, which is great, because we haven't seen those guys in forever. (Edward Norton, where've you been hiding?)

[youtube http://www.youtube.com/watch?v=5Q9rLdxS7CE]
Now that Jorma Taccone has done Girls, we are really hoping those Lonely Island guys find time to get together and make a movie/album/TV series/book of poetry/gay married to James Franco. After all, they can't busier than the Oz star, so what's their excuse for not popping up with new projects in the news every week? Laziness?