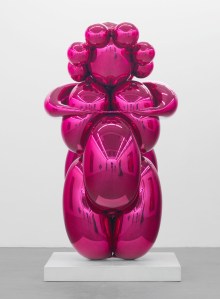 Jeff Koons's two-gallery blowout, his first large-scale appearance in commercial galleries in the city in 10 years and the unrivaled event of the spring art season (barring, perhaps, the Frieze Art Fair), is a roaring success, filled with feats of engineering and artistic choices that are as gleefully peculiar and perverse as any he has ever made. Mr. Koons strives to please, and he delivers.
Both shows are mostly made up of fairly large to gargantuan sculptures. At Gagosian, a threatening, man-size Incredible Hulk pushes a wheelbarrow filled with real flowers, all of them in full bloom. The Hulk appears to be made of thin plastic—a cheap inflatable toy writ large—but in fact, in a signature Koons trompe l'oeil, it is an immaculate bronze cast. Huge new stainless steel balloon sculptures are characteristically grandiose and dripping with sexual innuendo: a red monkey with a phallically sloping tail, a blue swan with a twist of material that resembles a rectum, and a magenta Venus of Willendorf that was modeled on the circa 24,000 B.C. sculpture of that name and flaunts numerous voluptuous curves.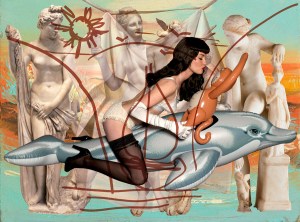 Viewing these sculptures can be a queasy experience: even while reveling in Mr. Koons's delirious visual splendor, one is confronted with the dubious values that undergird it. This is art about the relentless pursuit of perfection and control, seven-plus-figure luxury goods pitched to billionaires and realized with massive sums of capital and labor. They embody and promote a determined lust for accumulation—a drive for money, sex, fame and historical stature. These sculptures' sheer audacity and expense are, inextricably, ingredients in their production.
And these new pieces are even more audacious and expensive-looking than past Koons efforts. Even his paintings, long his Achilles' heel, stun. Meticulously painted by teams of assistants, they're fantastical, flat collages of works by artists including Picasso and Louis Eilshemius, as well as anonymous abstractions and photographs of ancient statuary, 1950s fetish pinup Bettie Page and various inflatable toys. Each has a cartoon sketch on top that resembles both a sailboat and a vagina. By the logic of that second image, and Mr. Koons's flair for sexual imagery in general, viewers' eyes penetrate the image, plunging into his strange elixirs of art history and sensuality.
The pieces at Zwirner are comparatively austere white plaster sculptures modeled on ancient art (a reclining lady, a hulking nude man) and quotidian American culture (a long row of mailboxes, a birdbath), each with a reflective royal blue gazing ball perched on some part of it. The reflective balls, familiar from prototypical American front yards, take in and reflect the entire gallery. Mr. Koons's best work tends to be his most ostentatious, his priciest, so these (relatively) modest pieces seem to run the risk of being consigned to the status of minor side projects. (Mr. Koons's museum-filling Whitney Museum exhibition is scheduled to open next year, and the question of what will or won't make the cut plays around these two shows.) But that would be a mistake, since they seem to evince a newfound interest in process (plaster often being used to make copies of sculptures or as an intermediary material in their creation) and experimentation (some are damaged in sections or missing limbs, though they are otherwise smooth).
Another intriguing outlier is a turquoise sculpture at Gagosian based on the ancient Greco-Roman Callipygian Venus—the Venus of the beautiful buttocks. It has an exaggeratedly smooth shape in some sections—note the toeless feet—that create warped reflections. If it weren't for the real white flowers sitting in a vase alongside the Venus, she could be mistaken for a digital apparition. That strange sheen makes her look thrillingly unstable, as if she could vanish into the ether at any moment, caught up in the currents of money and speculation that flow through Mr. Koons's oeuvre and that are ultimately so essential to it.
For decades, Mr. Koons's work has looked alluring and only vaguely sinister. Just a few years ago, some wondered if his decadence would weather the recession. Now we have our answer. His work is stronger than ever, and so is the nimbus of darkness around these saccharine daydreams. "I'm always very upset if somebody doesn't like my work," Mr. Koons has said, "because I never want to lose anyone." We're certainly all still watching.
(Through June 29, 2013)