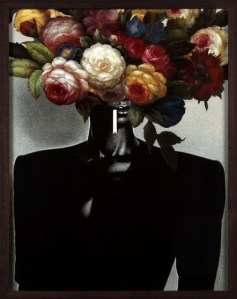 Tonight in New York the Tate Americas Foundation (née American Patrons of Tate) will host a dinner at Moynihan Station to raise funds for the museum, and the Glasbow–based artist Jim Lambie has been tapped to DJ the after party. In his art, Mr. Lambie has an exuberant touch, carefully covering floors with patterns of (often brightly colored) tape, or stringing brightly colored thread around nimble little sculpture sticks that he props in galleries. His art is also rich with references to music. The titles of his shows include "Byrds," "Unknown Pleasures," "My Boyfriend's Back" and—perhaps best of all—"Rowche Rumble."
The artist, who has showed in New York with Anton Kern Gallery since 2000, was kind enough to talk about his musical interests, his plans for this evening's set and the club he opened in his hometown last year in the e-mail interview below.
In a 2009 interview you said that you were a bad musician so you focused on art. What kind of music did you play as a kid?
It was mainly pop chart music at the time. My father had the first mobile disco (in Scotland) and we had loads of 7-inch vinyl records lying around at home, mainly without their record sleeves, being scratched and scraped into a non-playable state through wear and tear. Real '70s throwaway culture. Plastic, disposable and replaceable with the next big thing. My first real memories were glam rock bands. I loved them, and still do. Bands like Sweet, T. Rex, Slade, Roxy Music and Bowie were all a massive influence from around the age of seven or eight. I still love listening to those records.
What is the first record you ever bought?
X-Ray Spex–'The Day The World Turned Day-Glo,' my mate and I halved in to buy it, and would take turns at owning it for a couple of nights each.
The most expensive?
I am not sure. I did go through a spell of buying original, early rockabilly vinyl and that stuff doesn't come cheap.
The first concert you attended?
The Jam at Glasgow Apollo (1979). Coming from a small town, it was a real big deal for me, to travel to the city with my friends. I was 15 at the time. Seeing Kraftwerk in 1982 is a great memory. Unbelievable band. I have seen some fantastic gigs, New Order and The Jesus and Mary Chain were incredible and life changing.
What's the best crowd you've DJed for?
Art crowds are always good for party.
The worst?
Deejaying in a bar where only a few people turn up. That can be a long night. Every crowd is different. I never go with a set list. And I love reading the mood in the room, watching it change with each record, until (on a good night) you have the whole room rockin' and rollin'.
You mentioned in that same interview that "music makes hard edges disappear." I love that image; could you talk a bit about that?
I guess it's a mood thing. When you are on your own, surrounded by the hard edge of your room, putting a tune on can change that. You are more inside your head and filled with abstraction.
There are tons of music references in your work, especially in the titling. Do you listen to music while you work? And if so, what works best for getting the work to happen?
In the studio, I usually listen to the radio during the day. There's a great show by Jarvis Cocker (Pulp) called 'Sunday Service' (BBC Radio 6), which plays all sorts of stuff, but great stuff. Things you know, things you haven't heard in a while and music which you may not have heard. Lots of good interviews also. He has also had artist's like Jeremy Deller on talking/selecting tunes, and it always seems to produce a good mix. Other than that I guess I play LOVE (mid-to-late '60s L.A. psychedelic mavericks) way too much for anyone around me. I love listening to Miles Davis. Miles Davis and LOVE.
What music have you been excited about recently?
Primal Screams new album 'More Light.'
It seems like there are lots of art-world DJs and art music happening these day! Matthew Higgs and Spencer Sweeney DJ regularly, Martin Creed has been active with his band, and Scott King will release a record later this week. What art-/artist-music projects are you into?
I opened a club in April 2012. The Poetry Club, in Glasgow. It has mainly the spoken word at its core, but also has club nights and performance nights. It is an artwork and will exist as an archive. I have a small space where you can visit the archive as it grows.
Everything which happens at the club is being documented and archived. Photographed, filmed and recorded. Richard Hell was the first person to perform, and his readings were incredible. It's been a real education. There is one group of people, from Edinburgh, who put on a night called Neu! Reekie (Michael Pedersen and Kevin Williamson) which includes poets, readings, bands and performance. It feels special and fresh. There is also 'Burning Sands' (Sarah Lowndes), which again, is brilliant. An amazingly diverse and popular night, based around the spoken word. When bands play at The Poetry Club, they don't mic everything up, only the vocals and keyboards/computers can come through the PA. Everything else is straight from the source. It's back to the roots of being in a band. It's raw and puts the energy back into seeing a band perform. For me, it makes music feel like art again. Like Miles Davis, I love it.
How do you bring music from Glasgow? Are you traveling with a big record bin, or all digital?
It's digital, through a mixer. I always played vinyl in the past, but the shipping became a drag. The digital DJ is no big deal anymore. Kraftwerk use computers. That's good enough for me.
What's on deck for tonight?
I haven't a clue at the moment. It's going to be party poppers. Every bus stop from Jonathan Richman to Todd Terje. No requests please.