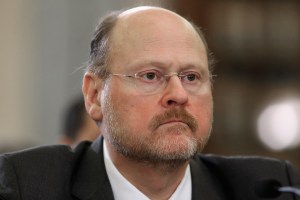 Earlier this week, after Mayor Michael Bloomberg breathed fire and brimstone at a plethora of politicians for failing to support his law-and-order agenda, some police reform advocates reacted harshly and said Mr. Bloomberg was deflecting from the real issues.
But not Joe Lhota. In fact, Mr. Lhota, a Republican vying to replace the term-limited Mr. Bloomberg, thought the speech was better than anything he's ever heard from a mayor.
"Bravo! Bravo to Mayor Bloomberg for that speech," Mr. Lhota exclaimed in a radio interview with Brian Lehrer this morning. "It was probably the best speech I've ever heard a mayor of the City of New York give in the 59 years I've been a resident of this city."
The abundance of praise–perhaps because Mr. Lhota used to work for former Mayor Rudy Giuliani–prompted Mr. Lehrer to interject with disbelief, asking, "What?"
"Mike Bloomberg was on target as best as I've seen him," Mr. Lhota continued. "The best speech he's ever given. He was absolutely, 100 percent correct. And I applaud him for what he said and his overall approach."
Mr. Lhota went on to defend Mr. Bloomberg's positions, calling legislation to install an NYPD inspector general "absolutely wrong" and touting the success of the police department's controversial stop-and-frisk policy.
In another part of the interview, Mr. Lhota even shared Mr. Bloomberg's disdain for The New York Times, which was passionately presented during Tuesday's speech.
"It's gross insensitivity on the part of The New York Times," Mr. Lhota said when asked about a Times editorial castigating Mr. Giuliani for placing a crisis-command bunker in The World Trade Center and comments he made at a Lhota fund-raiser. "I'm never surprised by the insensitivity of The New York Times editorial board."