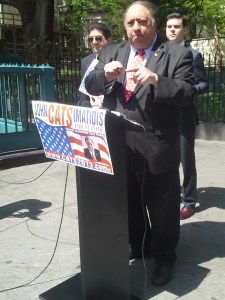 John Catsimatidis was not too pleased when he opened up today's New York Times to read about his reportedly embattled supermarket chain, Gristedes, which it dubbed the "unloved uncle of the New York City grocery scene."
"I'd say 'ugh.' I'd say 'ugh,'" the billionaire Republican candidate for mayor replied when Politicker asked him about his reaction to the piece, which detailed how the grocery chain has been struggling financially and targeted by several class action lawsuits.
He elaborated by comparing his relationship with Gristedes, which launched his successful business career, to a wife who doesn't like her name.
"Gristedes represents 3 percent of my sales," he said. "And I won't mention the name, I remember this lady that was married to somebody. One day she says to me, 'I can't lose that name no matter what I do.' Well she managed to lose it from him," he said. It was unclear exactly what he meant.
Mr. Catsimatidis made the comments at a press conference today announcing the Liberal Party's endorsement. He added that he'd chosen to keep the relatively gritty grocery chain open because it employs thousands of people, even if it is supposedly weighing down his net worth.
"The reason I keep that company, we have a few thousand employees that have been there 25, 30 years," he said. "I have not run the company in 10 years and I don't want those people to lose their jobs. The joke around town was that if I didn't have Gristedes I'd be higher on the Forbes list."