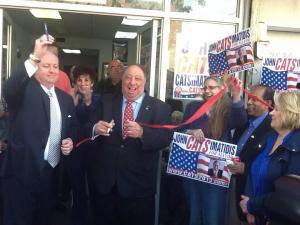 All of the major mayoral candidates have been spending cash at a relative steady clip; but no other candidate has managed to do so as fast as billionaire supermarket magnate John Catsimatidis. The self-financed Republican has spent a whopping $880,000 since he entered the race, including $615,332 in bills over the past two months.
In addition to tens of thousands of dollars for radio and print ads, Mr. Catsimatidis is planning the race's very first road-side billboard. The filings show the campaign has already paid out $35,000 for the larger-than-life display on Cross Bay Boulevard in Howard Beach, Queens, which is set to be unveiled in the next week or so, spokesman Rob Ryan said.
The campaign has also been dishing out thousands of dollars on campaign swag, including $2,948.89 for baseball caps on April 29 and $693.37 for hand sanitizers on April 27–all branded in his honor. Of course, Mr. Catsimatidis is no stranger to putting his personal touch on advertising–his supermarket chain Gristedes prominently features his face in their regular newspaper inserts.
As it so happens, the campaign also likes to shop close to home. It has spent nearly $3,800 at Gristedes, in fact.
"It's his money. It's not like it's money that was raised through people. Ninety-nine percent of the money on the campaign is his money," Mr. Ryan explained, noting Mr. Catsimatidis' rule of paying for anything he gets from the supermarket.
"He would never even pull a banana off and eat it without paying for it," he added. "Nobody should."
Mr. Ryan further said the campaign has been giving away free stuff to people who show up at campaign events, like this evening's opening of their new Brooklyn office. "We've got everything from hats to tote bags, key chains, lip balm, hand sanitizer!" he boasted, noting the hand sanitizer looks just like a pen, so it's easy to slip in a pocket.
And just in case folks get hungry, the campaign spent $118.02 at Oh! Nuts, which it classified under "Other," with the explanation "Candy."
On a more serious note, the filings include two final payments to Vincent Tabone, a close aide and the former executive vice president of the Queens Republican Party, who was arrested along with fellow lawmakers on April 2 for his alleged role accepting bribes as part of a scheme to get State Sen. Malcolm Smith on the ballot.
The campaign paid Mr. Tabone $3,000 in mid-March and then another $2,100 on April 5, 2013, several days after Mr. Tabone had been fired. Mr. Ryan said the money was back-pay for work he'd already done.