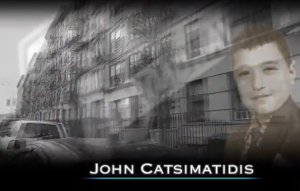 In political terms, there's still a long time to go before candidates can afford to hit the airwaves with serious television advertising–most voters simply won't be paying attention until a few weeks before the September 10th primary. But billionaire mayoral hopeful John Catsimatidis, who is self-financing his campaign, is under no pressure to limit his spending as he seeks to win the Republican nomination and accordingly released the first ad of the race this morning.
"John Catsimatidis never forgot where he came from, raising millions for education, neighborhood he believes every New Yorker deserves the opportunities he had," the narrator declares in the slickly-produced, 60-second spot. "Today, John Catsimatidis is running for mayor, because he believes every New Yorker deserves the opportunities he had."
Although the ad focuses on introducing Mr. Catsimatidis to the electorate, especially his hardscrabble roots growing up on 135th street, the candidate himself is limited to just a handful of frames. Instead, various scenes of New York City are displayed on top of an uplifting musical score.
"His plan? Create jobs for every borough, put more police on the street, stop high fares and tolls punishing commuters and be able to tell every kid they can dream big in a city that works hard and dares to be great," the narrator concludes. "John Catsimatidis, a mayor for every New Yorker."
Update (10:22 a.m.): According to Catsimatidis spokesman Rob Ryan, the ad will star airing today on NY1 and FOX News Channel, and will expand to other cable and broadcast stations later in the week.
"As a matter of policy the campaign does not discuss the exact cost or scope of a media buy. But, I will tell you that anyone in the business would describe it as a 'very sizeable buy,'" Mr. Ryan told Politicker.
View the ad below:
[youtube http://www.youtube.com/watch?v=VJzl-u-C8q0&w=560&h=315]
Additional reporting by Jill Colvin.