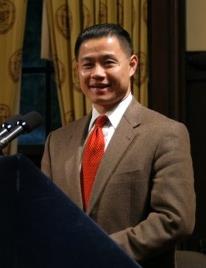 Comptroller John Liu said he's saddened by the guilty verdict this afternoon against two of his former associates–a one-time campaign treasurer for his mayoral bid and a former donor–but he insisted it's not going to slow him down.
"I am deeply saddened by the verdict. I continue to believe in Jenny being a good person and exceptional individual," he said in a statement released by his campaign, referring to Jia "Jenny" Hou, his former aide.
"I look forward to this year's Mayoral election and will continue to ask the voters for their support," he added.
According to multiple sources, Mr. Liu is currently at a mayoral forum in Brownstone Brooklyn. At approximately 7:30 p.m. tonight, his campaign said he will be taking questions at a press conference nearby.
Mr. Liu has not been accused of any wrongdoing, but as Ms. Hou and Xing Wu "Oliver" Pan–a donor to his electoral efforts–were convicted of breaking the law in order to help his mayoral campaign, the verdicts could further implicate Mr. Liu in the eyes of the general public and thus hamper his ability to win the top job in City Hall.
Update (8:30 p.m.): Politicker reported on the emergency press conference here.