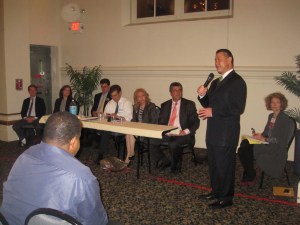 City Comptroller John Liu's mayoral bid secured its first major endorsement last night following the convictions of his former campaign treasurer and a fund-raiser on fraud charges, giving him a symbolic victory as he seeks to soldier on in his electoral quest.
The Three Parks Independent Democrats, one of the Upper West Side's major political clubs, delivered its support to Mr. Liu, who has defiantly campaigned since verdicts while insisting he can still win.
The first round of voting at a youth hostel on 103rd Street produced a a near-tie, with 40 votes for Mr. Liu and 38 for Public Advocate Bill de Blasio. Of the remaining 94 votes, six went to former Comptroller Bill Thompson and only one went to City Council Speaker Christine Quinn, the race's early front-runner. Long-shot comedian Randy Credico got three.
The close tallies prompted a second round of voting, where Mr. Liu edged out Mr. de Blasio 45-29.
As the news spread, a beaming Mr. Liu embraced supporters and staffers, with hugs and congratulations. "Wow!" said one supporter. "We pulled it off!" another exclaimed.
"I'm speechless," Mr. Liu told the group in brief remarks after the voting. "Thank you from the bottom of my heart … You placed your confidence in me … Let me say that I apologize for the fact that being friends with me is not for the faint of heart."
Mr. Liu later told Politicker he thought the vote boded well for the campaign. "The members of this club are not only active, they're knowledgeable and they care about what's really important, which are the issues," he said.
Daniel Marks Cohen, a New York State Democratic committeeman and one of the club's leaders, said that Mr. Liu's supporters seemed unfazed by his legal woes less than a week after former treasurer Jia "Jenny" Hou and fund-raiser Xing Wu "Oliver" Pan were found guilty for their roles in a straw donor scheme on Mr. Liu's behalf. The comptroller himself has not been charged with any wrongdoing, and both plan to appeal.
"I guess in the end, maybe the Liu people had more passion," Mr. Cohen said of the results. "Surprisingly it didn't dampen the enthusiasm. I think the Liu supporters are true believers and they don't care."
Others pointed to Mr. Liu's a long-standing relationship with the club, which also endorsed him for comptroller four years ago. "They know him," said Bob Botfeld, a Democratic district leader who supports Mr. de Blasio.
Mr. Liu, who got a nod from the Democratic Organization of Richmond County Club in Staten Island last month, is also expected to do well tonight with the Broadway Democrats. District Leader Paula Diamond Román penned a letter with other members encouraging them to vote for him, describing Mr. Liu as the most progressive candidate in the race. "To me, he's a very brave, ethical, humble person who acts in a very progressive way, rather than just speaking in a progressive way," she said.
The Three Parks club also endorsed Upper West Side City Councilwoman Gale Brewer for Manhattan borough president, Brooklyn Councilwoman Letitia James for public advocate and an unopposed Manhattan Borough President Scott Stringer for comptroller.