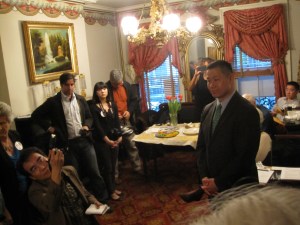 For nearly any other candidate, two guilty verdicts in the trial of a trusted treasurer and fund-raiser on campaign finance fraud charges would spell the end of his or her campaign. But this is John Liu.
The city comptroller soldiered on with his campaign on Friday, attending a fund-raiser where he vowed to not only continue his campaign but win the race—and slammed the feds' case in the process, taunting them to "put up or shut up" yet again.
"I am speechless," Mr. Liu said from the living room of the opulent Cobble Hill home, where several dozen supporters had gathered to hear from the candidate. "When I walked in, I was speechless. I mean, this has been an amazing experience, an amazing ride. You could never make this stuff up," he said, insisting he can still win again and again.
"We're a little more than four months away from the Democratic primary and we're going to win this thing. And we're going to win this thing and we're going to beat back all the doubters and the haters and we're going to win this thing. And after we work hard to win this election, we'll work even harder to change New York City," he said, brushing off Thursday's news off as merely a "downer" day in the campaign.
"A campaign has ups and downs. You get knocked down. And yesterday was a little bit of a knockdown. But we got right back up. And we're going to keep building momentum until we win this election," he said.
But as reporters pressed him on the impact of the verdicts, Mr. Liu's tone began to turn. He lashed out at prosecutors, castigating them for netting what he suggested were minor targets.
"I think what happened yesterday was very disappointing and honestly upsetting," he said, complaining that, "even after four years of investigating–a million documents reviewed, thousands of my supporters have been interrogated and even tapping my cell phones for what I've been told is an unprecedented 18 months–the only thing that could come up with are these charges against these two people?"
Asked how he remain confident in his campaign, he paused, struggling for words, before unleashing an even bolder attack.
"This has been much more about insinuations than anything else," he said, referring to allegations made about Mr. Liu's role in the scheme, even though he was never charged with any wrongdoing. "For the prosecutor to make those scurrilous statements in the closing without offering any proof whatsoever about me and then somehow using the whole taint of elected official and politicians, I think that was just ugly. And I still say: put up or shut up," he said, repeating his previous challeng. "They got something and they want to come after me? Fine. Look at everything. Anything and everything. I'm an open book and I'm right here. Just to do something."
Mr. Liu also claimed that he's received an outpouring of support from backers vowing to stand by his side.
"I've heard from a significant amount of people last night and this morning, people who have already supported me and people who are not yet public with their support," he said. "But their message was this doesn't change a thing. As soon as things are ripe and ready, they're coming out."
"Keep your chin up," he said they told him. "Don't be deterred. Onward. And that's exactly what we're going to do," he said, dismissing the charges as "old news."
And despite the verdicts, he said he remains confident the city's campaign finance board will award him with generous taxpayer matching funds.
"I think we're very solid and airtight on the matching funds," he said, adding that even if the funds are delayed, the campaign has a "deep well of support" to hold them over until the money arrives.
Mr. Liu's comments came during a fund-raiser in Brooklyn, where the audience of largely white, middle-aged supporters eagerly listened as the candidate answered questions about energy, education, stop-and frisk and drones, laughing and applauding enthusiastically. After his speech, the guests headed downstairs for a dinner of free-range organic beef, raised on the owners' own upstate farm.
David Michaelson, 48, one of the attendees, said he remained a staunch Liu voter, despite the verdicts, pointing to Mr. Liu's knowledge of the city's budget. He accused the media of unfairly targeting the candidate, whose campaign appeared to him to have "meticulous" bookkeeping.
"He's probably the most honest of all the mayoral candidates," said Mr. Michaelson. "He strikes me as the most honest and the most transparent, and that's what I'm voting for."
Another supporter, Lucy Koteen, acknowledged the young Ms. Hou may have made mistakes, but argued that any campaign would be found guilty of some minor offenses if it were subjected to the same scrutiny as Mr. Liu's.
"Everyone makes mistakes," said Ms. Koteen, 64, who had attended several days of the trial and said she was "shocked" by the guilty verdicts.
"I think the prosecutors had absolutely no case," she said.
Both Mr. Pan and Ms. Hou plan to appeal.