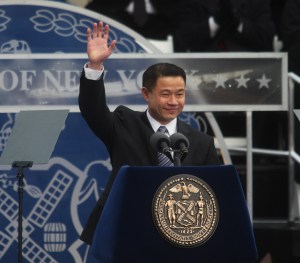 Comptroller John Liu's mayoral campaign took a significant hit this afternoon when a donor, Xing Wu "Oliver" Pan, and his young former campaign treasurer Jia "Jenny" Hou, were found guilty in federal court for helping to orchestrate a straw donor scheme on his behalf.
"As the jury found, Jia Hou and Oliver Pan stuck a knife into the heart of New York City's campaign finance law by violating the prohibition against illegal campaign contributions, all to corruptly advantage the campaign of a candidate for city-wide office," U.S. Attorney Preet Bharara said in a statement. "Cases like this give the people of New York yet another reason to be troubled by the electoral process, and they have a right to demand fair, open, and honest elections untainted by cynical subversion of campaign finance laws."
More specifically, Wall Street Journal reporter Michael Howard Saul, Mr. Pan was found guilty of conspiracy to commit wire fraud and Ms. Hou was found guilty of obstruction of justice and false statements. Both were further found guilty of attempted wire fraud.
Prosecutors accused the duo of funneling campaign contributions above the legal limit through donors who were then reimbursed. Defense lawyers maintained that the whole trial was a simply the result of a botched sting operation against Mr. Liu, but that was not enough to convince the jury.
"With these convictions, it is our hope that some measure of the public's confidence can be restored," Mr. Bharara added. "We will continue our efforts to stamp out public corruption wherever we find it. We thank the jury for their time and service, and the outstanding prosecutors who so ably tried this case."
Mr. Liu's campaign did not immediately respond to a request for comment, as did attorneys for Mr. Pan and Ms. Hou. Mr. Liu's government office declined to comment.
The comptroller himself has not been accused of any wrongdoing.