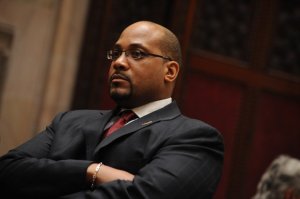 After State Senator John Sampson was arrested for his alleged involvement in a bribery scheme this morning, the lawmaker who replaced Mr. Sampson as the head of the Senate's Democratic conference, Andrea Stewart-Cousins, acted swiftly by stripping him of rank and privilege.
"These allegations are deeply disturbing," Ms. Stewart-Cousins said in a statement. "The alleged activity represents an offensive violation of the public trust for which there is no place in our government. Senator Sampson has been stripped of his ranking positions and all committee assignments."
Mr. Sampson was the ranking Democrat on the Senate Judiciary Committee as well as the Senate Committee on Alcoholism and Drug Abuse. According to Ms. Stewart-Cousins, Mr. Sampson "has also informed us that in order to avoid being a distraction to the conference he will no longer conference with the Senate Democrats."
Mr. Sampson's own predecessor in Democratic leadership, State Senator Malcolm Smith, was arrested himself last month on corruption charges. At that point, however, he had left the Democrats for the breakaway Independent Democratic Conference. IDC leader Jeff Klein reacted similarly, booting Mr. Smith from the caucus.
U.S. Attorney Loretta Lynch is holding a press conference to further unveil the charges at 11 a.m.