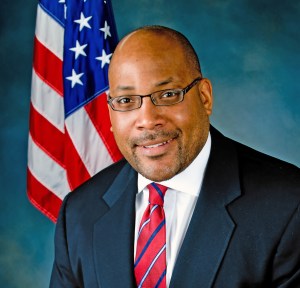 State Senator John Sampson, who up until recently led his chamber's Democratic conference, is set to turn himself into federal authorities today after being ensared in a bribery scandal, according to The New York Times and New York Post.
It's unclear to what extent Mr. Sampson may have been cooperating with federal prosecutors prior to this point. His involvement in an alleged scheme with then-State Senator Shirley Huntley, who already pleaded guilty to her own charges, was revealed last week when a sentencing letter made public Ms. Huntley's own cooperation. The Times reports Mr. Sampson be charged with obstruction of justice.
Should Mr. Sampson indeed be charged as expected, his arrest will follow what has been a recent string of corruption scandals in New York, including State Senator Malcolm Smith, Councilman Dan Halloran and Assemblyman Eric Stevenson, who was caught when a colleague revealed he had been wearing a wire himself and resigned. And, in the past couple years, pols like Councilman Larry Seabrook, State Senator Pedro Espada and State Senator Carl Kruger have been convicted in their own bribery or embezzlement schemes.
Furthermore, Assemblyman William Boyland Jr. was indicted for stealing public funds again last Friday, and the day before, two close associates to Comptroller John Liu, a candidate for mayor this year, were found guilty of attempting to organize a straw donor scheme on his behalf.
Needless to say, when it comes to good governance, New York is not gaining a particularly good reputation these days. And with more cooperating witnesses, there's no  sign that the scandals will end anytime soon.
Update (9:00 a.m.): According to multiple reports, Mr. Sampson has indeed turned himself in. U.S. Attorney Loretta Lynch is holding a press conference at 11 a.m. to further discuss the arrest.