Julie Mehretu's new paintings feel looser, more intricate and riskier than any she has done before. Influenced by the events of the Arab Spring, the artist, who was born in 1970 in Addis-Ababa and works in New York, has again filled huge canvases with skeins upon skeins of architectural plans, city maps, darting lines and free-flowing, undulating attacks of ink that are more powerful than ever, abstractly suggesting wild rivers, treacherous mountains and bombed-out landscapes. Marks sprawl across these 13 canvases in unexpected ways, stopping far from the edge, or spilling over into unseen territory. Critics could once accuse her masterful works of looking mannered or overthought; here they're just masterful.
Tahrir Square looms quietly near the center of the largest work here, the breathtakingly complex, 10-foot-tall, 24-foot-long Beloved (Cairo) (2013). It's surrounded by tangles of anonymous Western-style office complexes and apartments, fragments of Islamic architecture and cascades of her smoky markings. It would take days of close examination to sort it all out.
Color operates in her work with a new subtlety, often hovering in an indeterminate space in the background or glowing like a heat sensor or a spectrographic record of some unspeakable phenomena, as in Chimera (2013), whose clouds of hazy colors—blues, grays, some red—recall the alchemy of Sigmar Polke.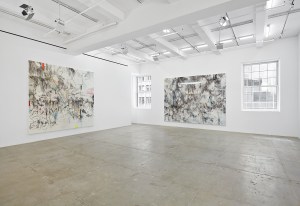 Four comparatively small works on view in Goodman's tiny third-floor space, each of them only about three by four feet, harbor traces of color—pinks, oranges, greens—and quick, varying marks of black ink. Though they approximate some amalgam of Futurism, Kirchner and Gorky, and lack Ms. Mehretu's precise architectural schema, their raw elegance and reflexive intelligence is unmistakably hers.
Every work in the show is horizontal, like a history painting, though they're not charting a past, built environment so much as the forces that affect such environments. These are provisional, improvised spaces, radically indeterminate maps of possible futures that are being contested as she works.
(Through June 22, 2013)